US regulator sells failed Signature Bank assets to another lender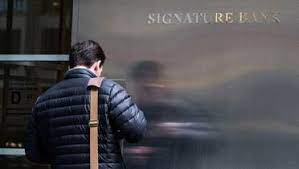 SAN FRANCISCO, March 20, 2023 (BSS/AFP) - The US banking regulator has struck a deal to sell most of the assets of the failed Signature Bank to another institution, the agency said on Sunday.
Signature Bank was seized by the Federal Deposit Insurance Corporation (FDIC) a week ago after it imploded in the wake of the collapse of Silicon Valley Bank (SVB) earlier in March, a failure that has sent convulsions through the global banking sector.
The FDIC is also seeking a similar deal to sell off parts of SVB, according to Bloomberg.
Flagstar Bank, a subsidiary of New York Community Bancorp, will take over all the deposits and some loan portfolios of Signature Bank, the regulator said in a statement.
Signature Bank held deposits of $88.6 billion as of December 31, 2022, the statement said, adding that the bank's 40 branches would open under Flagstar on Monday.
About $60 billion in loans and $4 billion in deposits related to Signature Bank's digital banking business will remain under the regulator's control, according to a statement.
Last week, the US Federal Reserve, the Treasury Department and the FDIC intervened to prevent a massive wave of withdrawals at SVB from spreading to other small and medium-sized banks.
To reassure the market, they guaranteed that customers would be able to withdraw all deposits from SVB and Signature Bank.
But regulators have so far been unable to find a buyer for SVB and are now considering breaking up the bank, a key lender to startups, according to Bloomberg.
The FDIC is now "seeking to sell the failed bank in at least two parts," sources told the news agency. Contacted by AFP, the regulator declined to comment.
The collapse of SVB, Signature Bank and fellow regional lender Silvergate has sparked fears of contagion across the industry as worried customers withdraw their cash.
San Francisco-based First Republic Bank -- the 14th largest US bank by assets -- has seen its stock market valuation melt by 80 percent.
On Sunday, ratings agency Standard & Poor's (S&P) downgraded the bank's long-term issuer credit rating from BB+ to B+, despite a $30 billion rescue package from 11 large US banks.
The measure "should ease near-term liquidity pressures," S&P said in a statement, "but it may not solve the substantial business, liquidity, funding, and profitability challenges that we believe the bank is now likely facing."
The agency warned it could further lower the bank's rating if there is no progress in stabilizing deposits.
First Republic Bank made assurances that with the $30 billion injection the lender is "well positioned to manage short-term deposit activity."
"This support reflects confidence in First Republic and its ability to continue to provide unwavering exceptional service to its clients and communities," a spokesman said.