Bangladesh beneficial for all businessmen around world: Malaysian HC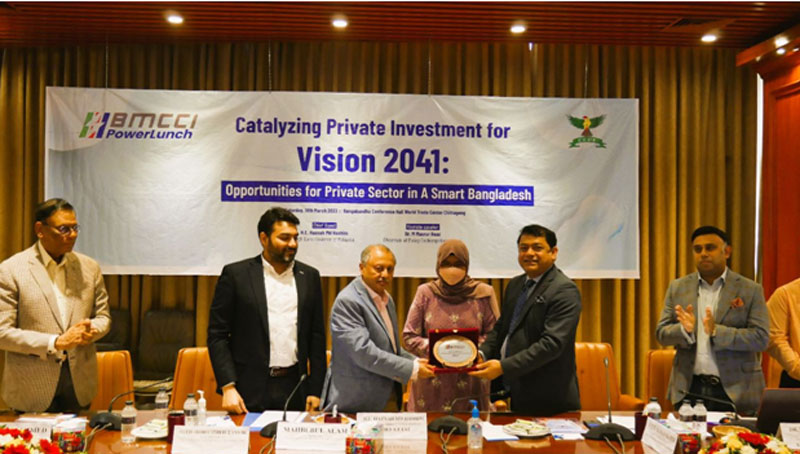 DHAKA, March 19, 2023 (BSS) - Malaysian High Commissioner to Bangladesh Haznah Md. Hashim has said that creating business opportunities in all sectors of Bangladesh is very beneficial for all businessmen around the world.
He also highlighted various facilities provided by the Bangladesh government to foreign investors.
Hashim also assured all possible cooperation and assistance from the High Commission for the development of long-term business relations between Bangladesh and Malaysia.
The Malaysian High Commissioner said this while addressing the BMCCI Power Lunch titled "Catalyzing Private Investment for Vision 2041: Opportunities for Private Sector in a Smart Bangladesh", as the chief guest organized by Bangladesh-Malaysia Chamber of Commerce and Industry (BMCCI) in collaboration with Chattogram Chamber, held yesterday at the Bangabandhu Conference Hall of the World Trade Center in Chittagong, said a press release today.

BMCCI president Syed Almas Kabir, Chattogram Chamber president Mahbubul Alam, Chamber vice president Syed Mohammad Tanveer, Chamber former president Engineer Ali Ahmed and director Mahfuzul Haque Shah, Chairman of Bangladesh House Building Finance Corporation Professor Dr. Md. Salim Uddin, managing director of PHP Automobiles Akhtar Parvez was present. The chairman of Policy Exchange Bangladesh M. Mashrur Reaz presented the keynote paper.
The Malaysian High Commissioner noted that close relationship between the two brotherly countries existed since independence. "As a developing country, Malaysia has always been a development partner of Bangladesh," he added.
Mentioning that Bangladesh is the second largest trading partner of Malaysia, he said that the Malaysian government wants to cooperate by increasing investment in Bangladesh to build a Smart Bangladesh by 2041.

In his speech, the Malaysian High Commissioner highlighted the current economic and social situation of Bangladesh in addition to highlighting the trade and economic cooperation between Bangladesh and Malaysia.

M. Mashrur Reaz presented the keynote speech on the topic and mentioned that Bangladesh's huge working youth population has contributed to becoming one of the focal points for attracting foreign investment.
Chattogram Chamber president Mahbubul Alam said that the main objective of Vision 2041 is to transform the economy of Bangladesh into a self-reliant and sustainable economy where there will be ample employment opportunities for people.
There is no alternative to increasing private investment to achieve this goal. Former president of the chamber, Engineer Ali Ahmed said, Matarbari deep sea port will be a game changer for Bangladesh.
Mahfuzul Haq Shah, the former director of the chamber, proposed to launch a separate economic zone for Malaysian investors and a direct Malaysia flight from Chattogram.
Akhter Parvez, Managing Director of PHP Automobiles suggested for decentralizing the activities of various government departments to encourage investment.
BMCCI President Syed Almas Kabir thanked Oriental Agent Limited for the overall cooperation and sponsorship of the event and said that BMCCI Power launch was launched with the objective of analyzing the economic potential and development of Bangladesh.
"Our chamber is working as the mouthpiece of the business community in determining the policies to be done for them to present Bangladesh as an investment-friendly country to the world in this contemporary trend of the fourth industrial revolution," he added.
He said the BMCCI and CCCI are jointly trying to increase trade between the two countries with an emphasis on the diversification of export products. "Digital Bangladesh is now a reality in front of us.
So, the government has now set its next goal to build Smart Bangladesh. Building Smart Bangladesh requires smart manpower and smartness in bureaucratic activities." added Kabir.