BCI signs MoU with BCC to boost Bangladesh-India trade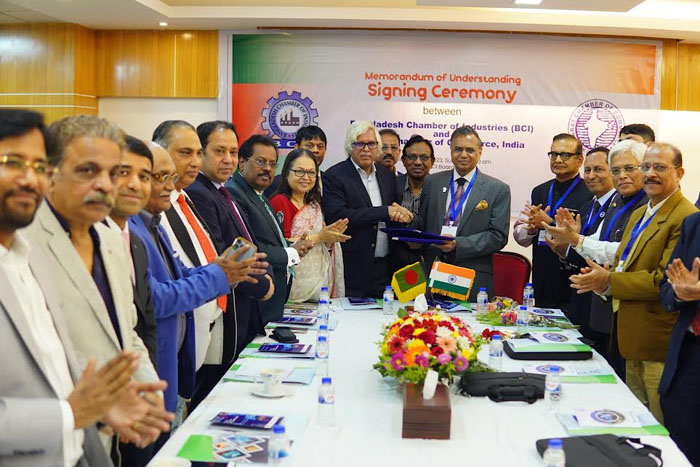 DHAKA, March 19, 2023 (BSS) - Bangladesh Chamber of Industries (BCI) and the
Bharat Chamber of Commerce (BCC), India today signed a Memorandum of
Understanding (MoU), which is expected to open up a new door of boosting
trade and commerce between the two countries.
BCI President Anwar-ul Alam Chowdhury Parvez and BCC President NG Khaitan
signed the MoU on behalf of their respective sides at the board room of BCI
today.
Following the signing of the MoU, it would be possible to exchange trade and
commerce related information, boosting cooperation, BCC will set up 'Dhaka
Desk' at their office while BCI to set up 'Kolkata Desk" at their office,
facilitates participation of different trade fairs, expositions, seminars in
Dhaka and Kolkata.
On the whole, both the chambers will work for developing trade and investment
between the two countries, said a press release.
The BCI President said Bangladesh has a wide number of potential sectors like
light engineering, agriculture-based industries, blue economy and ICT where
India can cooperate and can work in joint initiative. Besides, there is also
scope for working in technology, skills development and in training.
Echoing with Anwar-ul Alam Chowdhury, the BCC President said that his chamber
could work with BCI in joint initiative in Bangladesh's potential light
engineering, agro-based industry, blue economy and technology sector.
The BCC wants to hold Business Summit in Kolkata and invited all the
concerned business leaders of Bangladesh to join the summit, he added.
Earlier on yesterday, a 14-member BCC delegation arrived in the capital on a
three-day visit.