Eswatini wants promotion of trade, business with bangladesh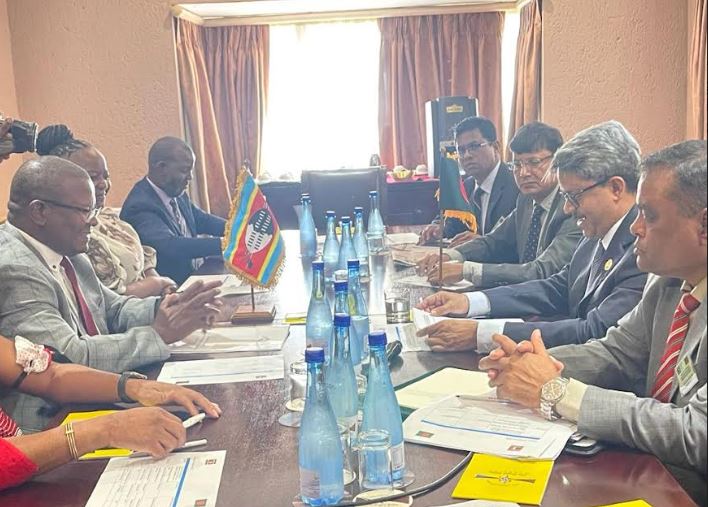 DHAKA, Feb 8, 2023 (BSS) - State Minister for Foreign Affairs Md. Shahriar Alam, who is on a two-day bilateral official visit to Eswatini, held bilateral discussions with Eswatinian minister of commerce, industry and trade Manqoba Khumalo at Mdzimba Conference Center in Mbabane on Tuesday.
During the meeting Manqoba Khumalo underlined the need for trade and investment promotion between Bangladesh and Eswatini. Mentioning textiles and agriculture as major areas of potential cooperation, he sought investment from Bangladeshi investors in these sectors in Eswatini.
"The Bangladeshi investors can reach out to other member states of SADC from Eswatini to export their products," said Manqoba Khumalo, recalling his visit to Bangladesh in July, 2022, thanked the Bangladesh side for their hospitality.
State Minister Shahriar Alam stated that Bangladesh is also interested in establishing cooperation with Eswatini in agriculture and textile areas. Highlighting the 'Vision 2041' of the government for transforming Bangladesh as a developed and prosperous nation, he appraised the Eswatini side of the recent infrastructural development, growth of manufacturing industries as well as other emerging sectors in Bangladesh.
Underlying the need for identifying potential sectors of trade and business as well as exchange of visits among businessmen, Shahriar Alam reaffirmed Bangladesh's commitment to take the bilateral and economic relations with Eswatini to newer heights.
He also thanked the Eswatinian government for looking after the Bangladeshi expatriates living in Eswatini during the period of Covid pandemic. He invited the Eswatinian businessmen for trade and investment in Bangladesh.
The representatives of investment promotion authority of Eswatini present at the meeting mentioned that the Bangladesh businessmen can reach out to different member States of COMESA, SACU and SADC by establishing business in Eswatini. They informed that joint ventures may be established in sugar, food items, cotton, contract farming, constructions and livestock sectors. They said various facilities will be offered by the Eswatinian government to the investors. They also mentioned possibilities of joint ventures in the IT and ICT sectors.