Tipu for increasing usage of digital method in boosting revenue collection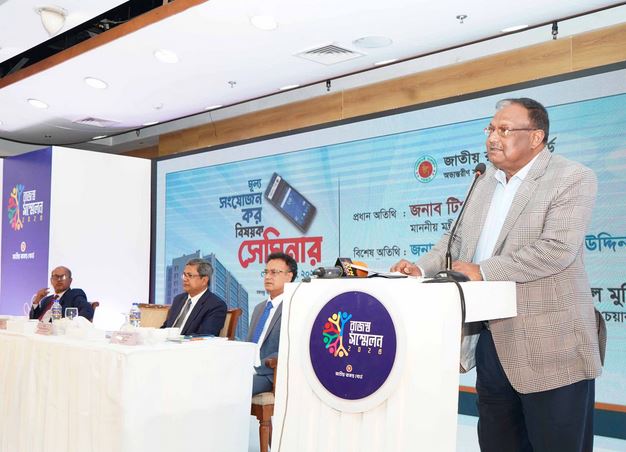 DHAKA, Feb 5, 2023 (BSS) – Commerce Minister Tipu Munshi today underscored the need for increasing the usage of digital method competently to boost the revenue collection.
"We've gained successes in collecting revenues since the National Board of Revenue (NBR) has been performing its duties for collecting revenues efficiently. But, in order to raise further such revenue collection, there is a need to enhance the usage of digital method with honesty and competently," he said.
The Commerce Minister was addressing a seminar titled "The role of vat in national development: Present and future" as the chief guest on the opening day of the two-day Revenue Conference-2023 held at the Bangabandhu International Conference Center (BICC) in the capital.
Prime Minister Sheikh Hasina formally inaugurated this event organized by the NBR.
Noting that the role of NBR is huge towards development of the country, Tipu said Bangladesh was able to build such mega structure like Padma Multipurpose Bridge with own resources throwing challenge before the whole world. "This has brightened further the image of Bangladesh,"
Mentioning that the economy of Bangladesh is now strong enough, he said that Bangladesh is expected to graduate successfully from the LDCs by 2026. "We're moving ahead towards building 'Smart Bangladesh'. So, we'll have to utilize more the digital method in realizing VAT and tax,"
The Commerce Minister also called upon the tax officials to discharge their duties with utmost professionalism and integrity to expand further the tax net.
Presided over by NBR Chairman Abu Hena Md Rahmatul Muneem, Attorney General AM Amin Uddin, FBCCI senior vice president Mostofa Azad Chowdhury Babu, FICCI president and Standard Chartered Bank CEO Naser Ejaz Bijoy and former NBR member Syed Golam Kibria spoke at the seminar as special guests.
NBR commissioners Syed Mushfiqur Rahman and Shawkat Ali Sadi jointly presented the key-note paper.