Mexico keen to expand trade with Bangladesh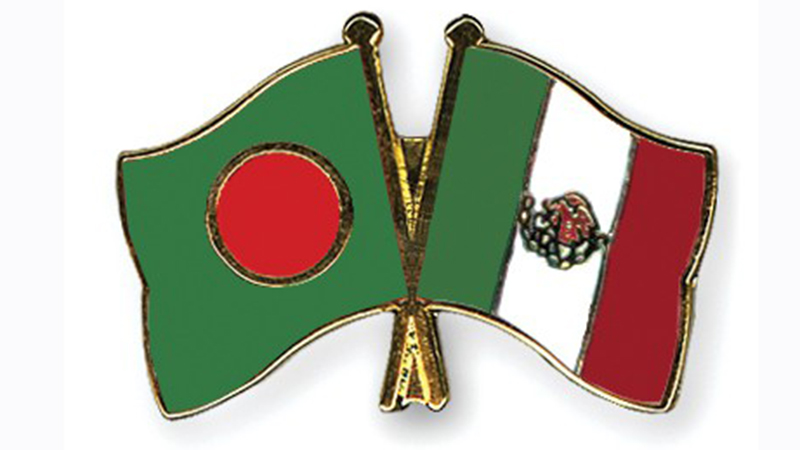 DHAKA, Jan 30, 2023 (BSS) - Mexico wants to expand trade relations with Bangladesh as both the countries see great potentials in the automobile, pharmaceuticals, chemical and FinTech sectors.
Federico Salas Lotfe, Ambassador of the Embassy of Mexico in New Delhi, India expressed such interest during a meeting with Mostofa Azad Chowdhury Babu, senior vice president of the Federation of Bangladesh Chambers of Commerce and Industry (FBCCI) today at its office.
During the meeting, the Mexican ambassador said, "Economic relations between Bangladesh and Mexico are still small. By exploring and diversifying trade, both sides would be benefited. I think the automobile, pharmaceuticals, chemical, and FinTech sectors have huge potentials."
Federico Salas Lotfe also said Mexico is one of the major suppliers of the global automobile market. "We are interested in exchanging Mexico's experience and transferring technology to build the capacity of Bangladesh in automobile manufacturing. I think it would be a good initiative. Bangladeshi entrepreneurs can also establish businesses in Mexico," he added.
Babu informed the Mexican delegation about the Bangladesh Business Summit which is going to be organized in March this year on the occasion of the 50th founding anniversary of the apex trade body FBCCI. He mentioned that the FBCCI is Expecting active participation from the Mexican side, said a press release.
He said several plenary sessions will be held during the upcoming three-day Business Summit in March where trade and investment potentialities in Bangladesh will be discussed.
CEOs from international companies, business leaders, analysts, and top officials of different countries and organizations are going to attend the mega event.
He sought active participation of the Mexican officials and business community in the event.
Babu also said that FBCCI will provide all kinds of support to Mexican businessmen in expanding trade and investment in Bangladesh.
FBCCI Director Syed Sadat Almas Kabir, SM Shafiuzzaman, Abu Hossain Bhuiyan Ranu, secretary general Mohammad Mahfuzul Hoque, and other members of the delegation were also present at the meeting.
Meanwhile, a special delegation of the high officials of the Mitsubishi UFG Financial Group or MUFG Bank, a popular Japanese bank and one of the largest banks in the world, met with the FBCCI leaders at the FBCCI office this afternoon.

The delegation of MUFG Bank was led by the bank's managing director and head of FI (South Asia) Gaurav Bhagat. The bank authorities have expressed interest in doing more work in Bangladesh in the coming days.
Besides highlighting the potential sectors of Bangladesh, the FBCCI leaders highlighted the importance of foreign investment for the country. FBCCI leaders also urged the MUFG bank authorities to open up a branch in Dhaka.
FBCCI senior vice president Mostofa Azad Chowdhury Babu, vice president Md Amin Helaly, FBCCI director Syed Moazzem Hossain, Shomi Kaiser, Dr Nadia Binte Amin, Syed Sadat Almas Kabir, Abul Kasem Khan, Abu Hossain Bhuiya Ranu, BARVIDA secretary general Mohammed Shahidul Islam were also present at the meeting.