Bangladesh's London mission for increasing remittance flow legally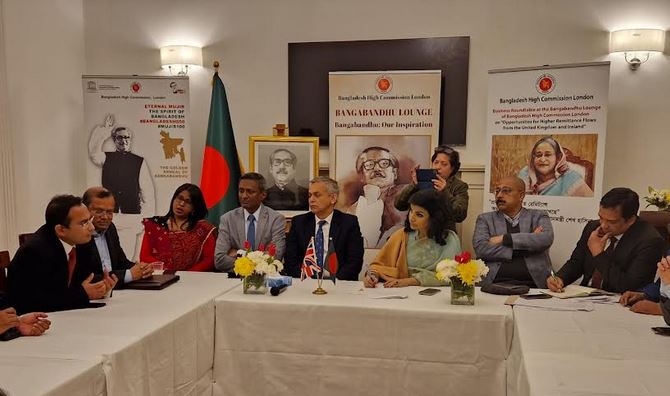 DHAKA, Jan 29, 2023 (BSS) - The Bangladesh High Commission in London has taken a special initiative to increase the flow of remittances from the UK and Ireland through official channels.
A views-exchange meeting "Opportunities for Greater Remittance Flows from the UK and Ireland" was organised by the high commission with representatives of money exchange houses of the UK to this end on Friday (local time), said a press release.
Saida Muna Tasneem, High Commissioner of Bangladesh to the UK, chaired the programme.

Urging British-Bangladeshis to send remittances legally, Bangladesh High Commissioner Saida Muna Tasneem said the government led by Sheikh Hasina announced a 2.5 percent incentive against remittances for the expatriates to encourage them to send the money through valid channels.
She also consulted the money exchange houses to take special initiatives to boost the flows of remittance.
A remittance fair will be organised in east London to increase awareness about the official channels to send remittance, she said.
The high commissioner said the representatives of the money exchange houses will be trained about the means by which they can send the remittances at a low charge by using several apps, added the release.
Apart from this, community televisions, newspapers and social media will be used in escalating the awareness about the sending of money through valid channels, she said.
During the meeting, representatives of money exchange houses put forward their problems and recommendations regarding money remittance.
The High Commissioner assured them of taking necessary measures to this end.