Rangpur region to produce record 22.30-lakh tonnes Boro rice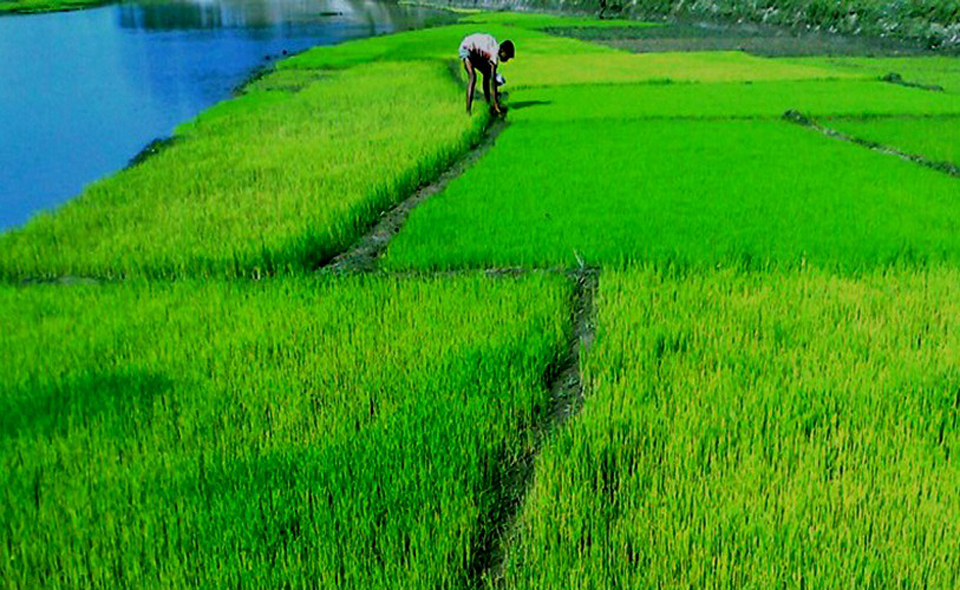 RANGPUR, Nov 29, 2022 (BSS) – The government has fixed an all-time record target of producing 22,30,219 tonnes of clean Boro rice (33,45,329 tonnes of paddy) from 5,07,050 hectares of land for Rangpur agriculture during the current Rabi season.

The record Boro rice production target has been fixed to further enhance rice production in the wake of the global crises caused by the Russia-Ukraine War and Covid-19 pandemic for ensuring national food security with surplus output in the region.

Officials of the Department of Agricultural Extension (DAE) said farmers produced 21,93,513 tonnes clean Boro rice (32,90,270 tonnes of paddy) from 5,05,235 hectares of land in all five districts of the region during the last 2021-2021 Rabi season.

Earlier, farmers produced 21,56,000 tonnes of clean Boro rice (32.34 tonnes of paddy) from five lakh hectares of land in the region during the previous Rabi 2020-2021 season.

"Farmers are expected to bring more land under Boro rice farming this time as the government is providing special assistance to farmers," Additional Director of DAE for Rangpur region Agriculturist Mohammad Shah Alam said.

This season, farmers will produce 10,73,085 tonnes of hybrid variety Boro rice from 2,19,900 hectares of land, 11,54,663 tonnes of high yielding variety rice from 2,85,800 hectares and 2,471 tonnes of local variety Boro rice from 1,350 hectares of land.

Presently, farmers are busy with harvesting Aman rice and sowing seeds of Rabi crops like potato, maize, mustard and winter vegetables on their croplands alongside preparing seedbeds of early varieties of Boro rice.

Farmers will start preparing Boro rice seedbeds in full swing from the next week and begin transplantation of seedlings in the low-lying and riverine char areas from late-December to complete harvest the crop before the next rainy season.

"Meanwhile, transplantation of Boro rice seedlings will begin on the mainland from mid-January and continue till February next," Alam said.

Farmers of all five districts of Rangpur, Gaibandha, Kurigram, Nilphamari and Lalmonirhat in the region are expected to engage their full efforts to make the intensive Boro rice programme a success.

The DAE, Bangladesh Agriculture Development Corporation, Bangladesh Rice Research Institute, Barind Multipurpose Development Authority, Rural Electrification Board and commercial banks have taken special steps to assist farmers in farming Boro rice.

"The authorities concerned will ensure smooth supply of quality seeds of Boro rice, fertilisers and power to farmers for smooth cultivation of Boro rice," Alam added.

Besides, field level officials of the DAE have started extending assistance and latest technologies to farmers for successful Boro rice cultivation to enhance rice production aiming at ensuring food security despite the prevailing global crises.

Talking to BSS, Armanul Haque, Morshed Rahman, Narayan Chandra, Bakul Mian, Mohsin Ali and Liyakat Hossain of different villages in Rangpur said they are expecting to bring more land under Boro rice cultivation this season.

Farmers Manik Mian of village Darshona village in Rangpur Sadar said he is planning to bring four acres of land under Boro rice cultivation this time after getting repeated bumper outputs in recent years.

Independence Award 2018 Medal (food security) awardee Agriculturist Dr. Md. Abdul Mazid suggested farmers complete transplantation of Boro rice seedlings within February 15 to get maximum production.