Rangpur farmers happy getting bumper garlic output, fair price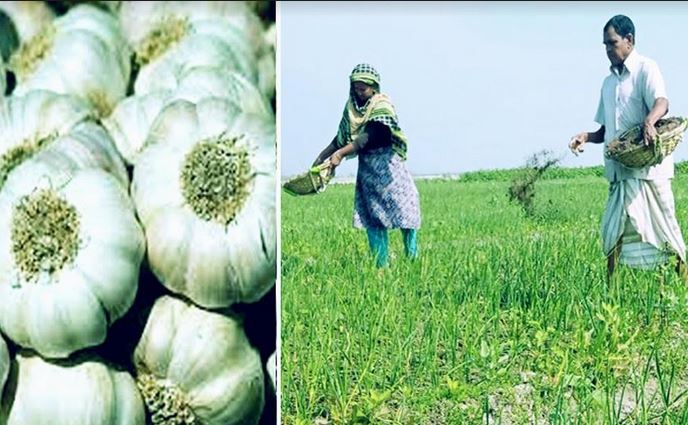 RANGPUR, Sept 23, 2022 (BSS) - Farmers are happy getting bumper garlic output
during the last Rabi season and fair price of the spicy crop in Rangpur
agriculture region.

Officials of the Department of Agricultural Extension (DAE) said a target of
producing 28,399 tonnes of garlic was fixed from 3,353 hectares of land for
all five districts in the region during the last Rabi season.

However, farmers cultivated garlic on 3,470 hectares of land, less by only 65
hectares of land against the fixed farming target.
"After completing harvest, farmers got a bumper production of 27,977 tonnes
of garlic at the average yield rate of 8.06 tonnes per hectare of land,"
Additional Director of DAE for Rangpur region Agriculturist Md Emdad Hossain
Sheikh told BSS.
Farmers produced 9,275 tonnes of garlic from 1,177 hectares of land in
Rangpur, 2,503 tonnes from 350 hectares in Gaibandha, 4,813 tonnes from 630
hectares in Kurigram, 3,821 tonnes from 396 hectors in Lalmonirhat and 7,565
tonnes from 917 hectares of land in Nilphamari districts of the region.

The DAE and other agriculture related organizations extended assistance and
latest technologies and commercial banks easy-term agri-loans to farmers to
attain the fixed production target.
"Farmers are showing keen interest every year in expanding garlic farming
adopting eco-friendly technologies after getting repeated bumper production
and fair prices in recent years," Hossain said.

Farmer Anwar Hossain of Paschim Mohipur village in Gangachara upazila of
Rangpur said he had cultivated garlic on his farmland using the zero tillage
method and got a bumper yield of the spicy crop.
Farmer Echhahaq Ali and Mamunur Rahman of village Kathihara in Sadar upazila
of Rangpur said they cultivated garlic on their croplands and got excellent
output and better price.
Senior Coordinator (Agriculture and Environment) of RDRS Bangladesh
Agriculturist Mamunur Rashid said farmers are showing more interest in
farming garlic adopting the zero tillage method on the same land after
harvesting Aman paddy.
"Residual values of organic fertilizers and soil moisture of the paddy fields
help farmers in cultivating garlic to get bumper output, '' he said.
Besides, adoption of the zero tillage method for sowing garlic seeds and
proper crop diversification with land management can help farmers a lot in
increasing production by saving costs of labor and irrigation.
"The DAE and other agriculture related organizations and some NGOs are
working to popularize the zero tillage garlic farming method among farmers to
enhance its production in the region," he added.
Retail vegetable trader Hafizur Rahman at Rangpur City Market today told BSS
that farmers are selling their produced garlic at rates between Taka 2,800
and Taka 3,200 per mound (every 40 kgs) to wholesalers.
"However, retailers are selling garlic at rates between Taka 3,200 and Taka
3,600 per mound or between Taka 80 and Taka 90 per kg on an average depending
on the size and quality," Hafizur added.