All time record groundnut price makes Rangpur farmers happy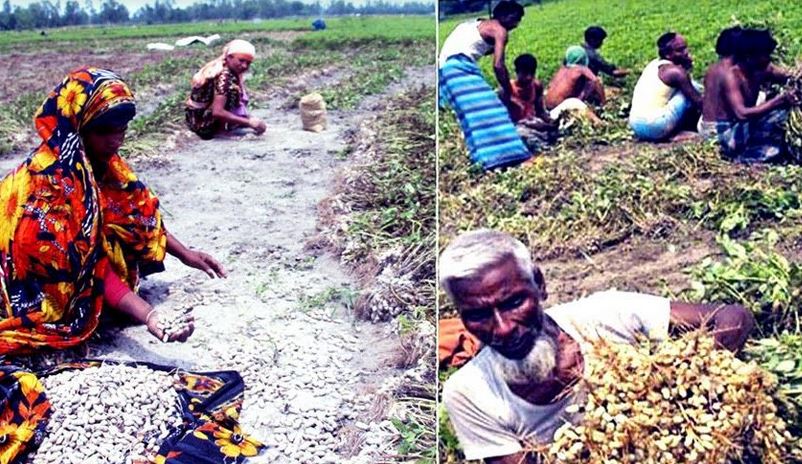 RANGPUR, Aug 11, 2022 (BSS) - The farmers are very happy getting an all time record groundnut price after producing 20,893 tonnes yield during the last Rabi and just-ended Kharif-1 seasons in Rangpur agriculture region.
Market sources said farmers are very happy to earn an all-time record profit from selling their harvested groundnuts to wholesalers at rates between Taka 4,500 to 4,800 per mound (every 40 kg).

Talking to BSS, Senior Coordinator (Agriculture and Environment) of RDRS Bangladesh Agriculturist Mamunur Rashid said farmers can earn up to Taka 50,000 by producing 25 to 30 mounds of groundnut per acre of land spending Taka 24,000 as farming costs.
Additional Director of the Department of Agricultural Extension (DAE) for Rangpur region Md. Emdad Hossain Sheikh said a target of producing 11,688 tonnes of groundnut was fixed from 6,015 hectares of land for the region during the last Rabi season.

Enthusiastic farmers, however, finally brought 6,190 hectares of land under groundnut cultivation exceeding the fixed farming target by 175 hectares of land.

After completing harvest, farmers produced 11,988 tonnes of groundnut, higher by 300 tonnes against the fixed production target in Rangpur, Gaibandha, Lalmonirhat, Kurigram and Nilphamari districts of the region during the last Rabi season.

During the previous 2020-2021 Rabi season, farmers produced 11,087 tonnes of groundnut by cultivating the crop on 6,190 hectares of land in the region.

Similarly, farmers produced 8,905 tonnes of groundnut from 4,452 hectares of land during the just-ended Kharif-1 season in the region.

"During the previous Kharif-1 season, farmers produced 8,191 tonnes of groundnut after cultivating the crop on 4,400 hectares of land in the region," he said.

Farmers are getting excellent groundnut yield by cultivating its high yielding varieties evolved by Bangladesh Agriculture Research Institute (BARI) across the region in recent years.

"With increasing demand of groundnut in the boosting food industry sector, farmers are expanding groundnut cultivation on main lands and vast char areas after getting repeated bumper output with lucrative prices in recent years," Hossain added.

Groundnut farming both on the mainland and vast riverine sandy char areas is expanding during the last thirteen consecutive years following a huge boost up of the food industries increasing demand for agro-commodity.

"More than 6,000 farmers, mostly living in char areas or riverside villages, have achieved self-reliance by cultivating groundnut on sandy char lands with assistance of the DAE and different NGOs to improve their livelihoods and living standard," Rashid added.

Groundnut trader Mokhlesur Rahman at Rangpur City Bazar Market said farmers are selling their just-harvested groundnut in the last Kharif-1 season to wholesalers at rates between Taka 4,500 and 4,800 per mound depending on varieties and qualities.

"We are selling groundnut to the retailers at rates between Taka 4,800 and Taka 5,000 per mound after purchasing those from farmers at rural areas and local markets of all five districts in Rangpur agriculture region," Rahman said.

Farmers Abdur Rouf, Abul Hashem, Saidul Islam, Rashidul Haque, Nur Alam and Abdul Bari of different char villages on the Teesta riverbed in the region said they got bumper groundnut output during the last Rabi and Kharif-1 seasons with lucrative prices.