Jute harvesting goes on in Rajshahi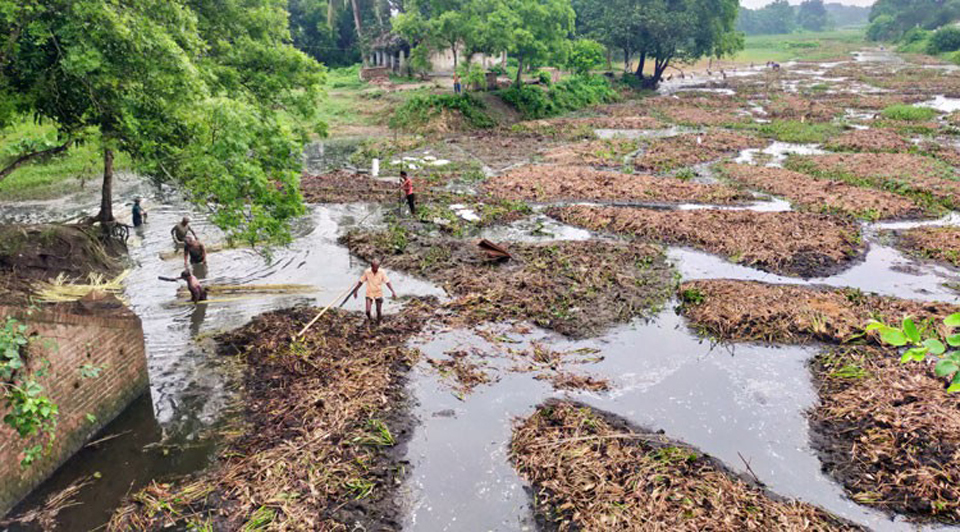 RAJSHAHI, August 4, 2022 (BSS) - Harvesting of jute is progressing fast everywhere in all eight districts under Rajshahi division in the current season with a prediction of better yield amid the present favorable climatic condition.

Currently, most of the growers along with their family members are very much engaged in harvesting, decomposing and segregating jute, generating seasonal job opportunities for many people.

Jute farming has exceeded target this season as interest among the growers to the cash crop farming is seen increasing everywhere in the division including its vast Barind tract.

The newly harvested jute has started appearing on a limited scale. However, it will be available in the markets abundantly within the next couple of weeks upon starting of full-scale harvesting and decomposing activities.

Siddiqur Rahman, a resident of Debipur village under Durgapur upazila, has cultivated jute on two bighas of land, saying the frequent rainfall benefited the growing plants to a greater extent.

He has spent Taka 15,000 to 16,000 for the farming. He is expecting around 20 mounds yield valued around Taka 45,000 to 50,000.

Apart from this, he will get jute sticks worth around Taka 5,000 from the farming.

He had sold jute at Taka 2,000 per mound during the previous year's harvesting time but its price increased gradually.
Rahman said the growers have got scopes of decomposing their jute in lease-free water bodies as the district administration has taken necessary steps in this regard this year.

Department of Agriculture Extension (DAE) has set a target of producing around 14.53 lakh bales of jute from 2.22 lakh hectares of land in the division during the current season.
Target has been set to produce 5.60 lakh bales of jute from 48,827 hectares of land in Rajshahi, Chapainawabganj, Naogaon and Natore districts under Rajshahi Agricultural Zone, while 8.93 lakh bales from 77,986 hectares of land in Bogura, Joypurhat, Pabna and Sirajganj districts under Bogura Agricultural Zone.

Officials and farmers are very much hopeful about harvesting better jute yield in the country's northwest region this season.

Farmers are humming towards the jute farming as they are getting lucrative prices for its produce during the last couple of years giving a message of getting back to the golden era of the cash crop in near future.

Abdur Razzaque, a farmer of Shreepur village under Paba upazila, said jute's golden era has started returning back.

He said the role of private jute mills and the government's declaration about the mandatory use of jute bags in packaging public food grains boosted jute cultivation.

Last year, the initial market price of jute was Taka 1400 to 1500 per mound. But, finally the price stood at Taka 5,200-5,500 per mound, he said.

Razzaque mentioned the price could have been more if there were no syndicate of middlemen and traders. He sought government intervention in controlling the syndicate to facilitate the farmers to get fair prices.

He said farmers got fair prices of jute during the last couple of years and as a result, they are now eager to cultivate more jute.

DAE Additional Director Shamsul Wadud said jute farming has started getting a brighter dimension through increasing its production and adopting other effective measures.

The farmers have started adopting the latest line sowing jute technology using seeders machines saving huge seed and reducing farming costs and ribbon-retting method to get quality fiber and more profit.

Wadud said necessary measures are being taken for making the farmers habituated in promoting high yielding jute varieties for boosting its production.