Arum farming changes fortunes of many Rajshahi farmers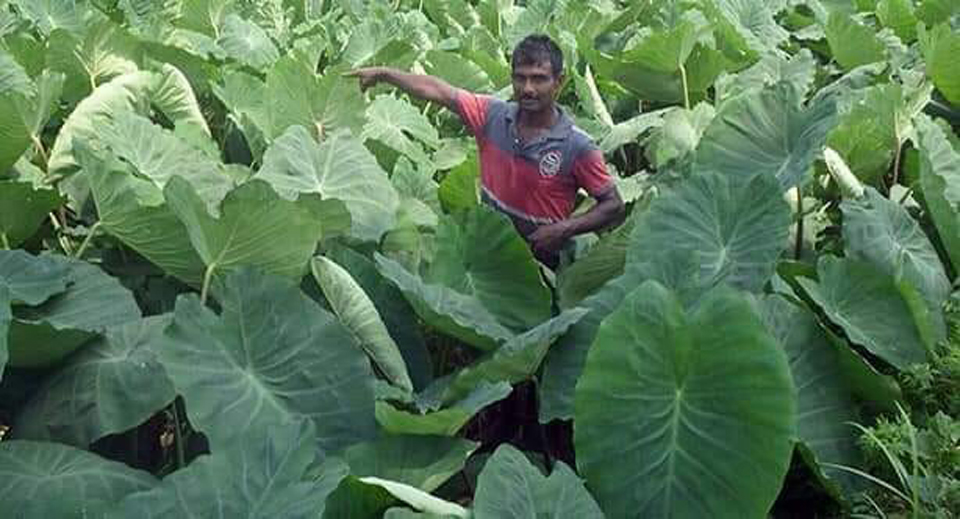 RAJSHAHI, July 5, 2022 (BSS) - Arum farming has changed fortunes of many farmers as demands of the vegetable crop are seen rising gradually everywhere in the region including its vast Barind tract.
Cultivation of the crop has also become a boon for many people amid bumper production and high profit due to its high demand and nutrition values.

Sub Assistant Agriculture Officer Atanu Sarker said the local farmers are seen farming the crop commercially for a couple of years as it has demands in the local and regional markets and other growth centres.

A lot of farmers have started cultivating arum commercially as its market price is rising gradually. "A farmer gets 3 to 5 maunds of yield from each decimal of land," he went on saying.
Mukhi Kochu, a variety of arum, has been cultivated on over 500 hectares of land and PaniKachu, it's another variety, on over 150 hectares of land in the district this year, he said, adding the farmers were given suggestions for cultivating Pani Kachu in marshlands where other crops do not grow well.

Mojibul Haque, 56, of Golai village under Godagari upazila, has cultivated arum on one bigha of land and has been harvesting and selling his crop with satisfactory yield and market price for the last couple of weeks.
Price of early harvested arum is always lucrative as many people purchase it with much interest. "I've sold the vegetable at Taka 2,000 per mound in the whole sale market in the early stage," Haque said with a smiling face.
Per mound of arum is being sold at Taka 1,400 to 1,600 in the wholesale market as the consumers can purchase it at Taka 70 to 80 per kilogram from retailers or vendors at present, he added.

Agriculturist Mozder Hossain, Deputy Director of the Department of Agriculture Extension, said arum is an environment-friendly and nourishing vegetable item, adding the agriculture department has been advising farmers on cultivating different high yield varieties of arum.

He said the farmers of the region are expected to grow huge quantities of arum this year by using modern technology and compost fertilizer as per DAE's suggestion.
Locally known as 'Latiraj', arum is usually planted in early January and its harvesting begins in mid-April and the harvesting continues for eight months till mid-December.

Farmers are now cultivating different varieties of arum in the region and almost all the varieties are grown in the water-logged areas, he continued.

Anarul Islam, 48, an arum farmer of Borgachhi village of Paba upazila, said he has cultivated mukhi arum on three bighas of land, expecting bumper production.

He planted the arum seed in the last week of January and began harvesting in the first week of August.

He said arum grows well on his land and he has been cultivating this vegetable for the last few years because he gets good profit at lower expenses.

Jafar Ali, another farmer of Chanduria village under Tanore upazila said he cultivated Taro Arum (Mukhi Kachu or BoiKachu) and got an excellent yield of the crop this season.

He added that a farmer can get 2-3 maunds of Taro Arum from each decimal of land.

Dr Mahbubur Rahman Khan, a professor in the department of medicine in Rajshahi Medical College Hospital, termed arum as a nourishing and tasty vegetable. This food item works as a remedy for different diseases, he claimed.