32.50 lakh tonnes of Boro rice produced in Rajshahi division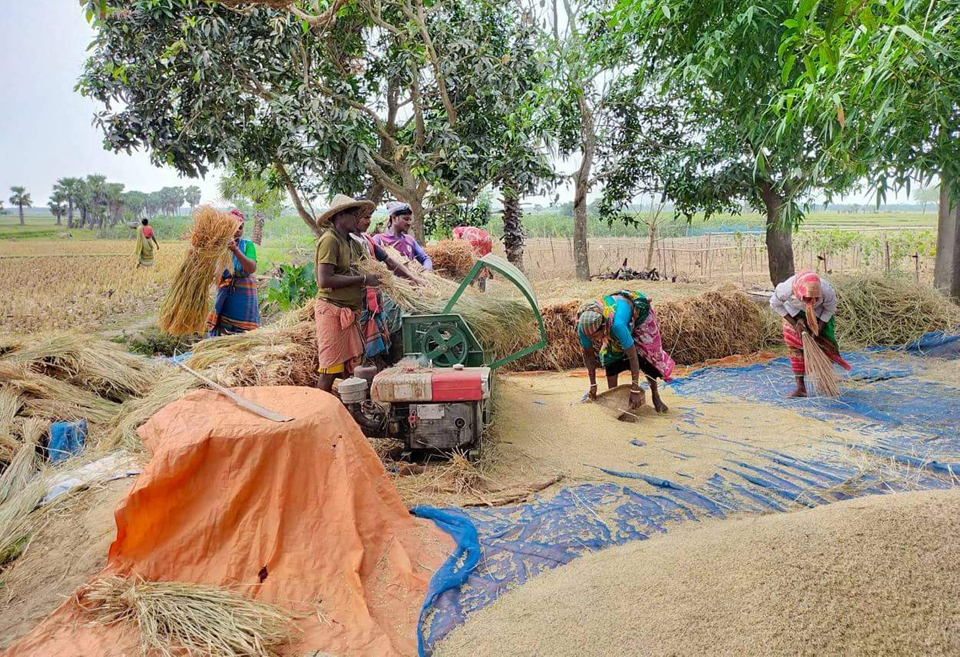 RAJSHAHI, June 21, 2022 (BSS) - Farmers have produced around 32.50 lakh
tonnes of Boro rice from 8.18 lakh hectares of land in all eight districts
under Rajshahi division during the recent past harvesting season.

Currently, the grassroots farmers are happy after getting better yield and
market price of their newly harvested rice contributing a lot towards
ensuring food security in the region.

This year, additional 6,668 tonnes of rice has been produced in the division
compared to the target set by the Department of Agriculture Extension (DAE).

The DAE had fixed the target of producing 35.51 lakh tonnes of rice from 8.12
lakh hectares of land but, amazingly, the farmers brought around 8.19 lakh
hectares of land under paddy farming.

Shamsul Wadud, additional director of the DAE, Rajshahi, said the farmers
attained the yield following various effective steps including inspiring to
enhancing cultivation of high yielding varieties of Boro rice, price
reduction of DAP fertilizer, smooth supply of fertilisers and power for
irrigation by the government.

Use of latest technologies, proper fertilisation, agronomical managements and
suitable weather also made the paddy farmers capable of getting good yield as
steps had been taken to ensure smooth Boro rice cultivation this season with
close monitoring and supervision by the DAE officials.

Nobab Ali, a farmer of Harinbiska village under Godagari upazila, is now
happy with his satisfactory production of paddy. He has harvested 20 to 22
maunds of paddy from per bigha of land.

Like him, many other farmers of the upazila were highly hopeful of a bumper
paddy production this season. Hossain expects a good profit by selling paddy
if the market price is satisfactory.

Sub-Assistant Agriculture Officer Atanu Sarker told BSS that the farmers are
now delighted over their yield, adding: "Suitable climate conditions and
government support to the farmers are being judged as the main reasons behind
the good yield."

Meanwhile, procurement drives of the newly harvested Boro rice is going on in
full swing everywhere in the division creating a high hope of ensuring food
security.
The government has, so far, procured around 96,414.47 tonnes of Boro rice at
Taka 40 per kilogram during the current season contributing a lot towards
food security.

As part of its ongoing rice procurement drive commenced since May 7 last, the
government has bought the food grain from all eight districts in Rajshahi
division.

In addition to the rice procurement, the government has also purchased
6,855.80 tonnes of Boro paddy at Taka 27 per kilogram during the same period
till Monday.

Faruque Hossain Patwary, regional controller of Food, said the procurement
drive is going on in full swing everywhere in the division currently,
detailing aspects of the procurement drive.

He said the government has set a target of procuring 2,41,070 tonnes of
boiled rice and 1,09,329 tonnes of paddy in the division during the current
season until August 31.

Contracts have been signed with 3,565 millers for collecting 2,35,567.36
tonnes of boiled rice.
The enlisted millers have been supplying rice as per terms and conditions of
the contract.