Excellent output, high price make maize farmers happy in Rangpur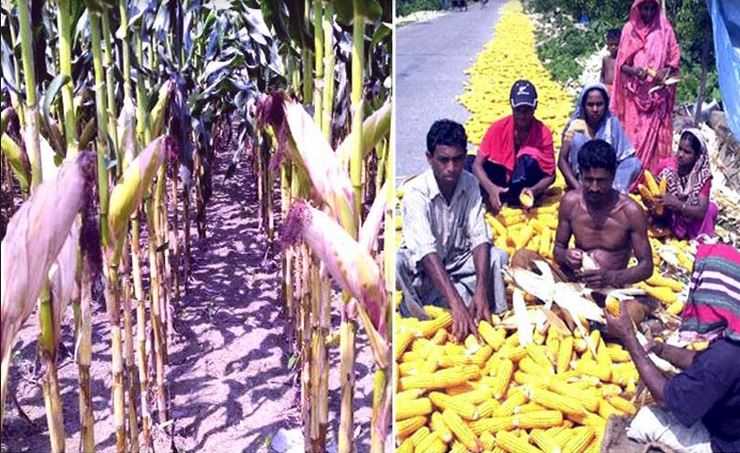 RANGPUR, May 22, 2022 (BSS) - Excellent output with all-time record high market price of maize has made farmers happy now both in the mainland and riverine char areas across Rangpur agriculture region.
Officials of the Department of Agricultural Extension (DAE) and market sources said farmers are currently selling newly harvested maize to traders and wholesalers at rates between Taka 1,200 and Taka 1,260 per mound (every 40-kg).
Farmers are expecting a super bumper production of maize as its harvesting is nearing completion after exceeding the fixed farming target by 2.09 percent during the 2022 Rabi season.
The DAE had fixed a target of producing 11,33,325 tons of maize from 1,04,045 hectares of land for all five districts of Rangpur, Gaibandha, Kurigram, Nilphamari and Lalmonirhat in the region this time.
"However, farmers finally brought 1,06,217 hectares of land under its cultivation, exceeding the fixed farming target by 2,172 hectares of land or 2.09 percent," Additional Director of DAE for Rangpur region Agriculturist Md. Emdad Hossain Sheikh said.
Till Saturday, farmers completed harvesting maize on 83,725 hectares of land, 78.73 percent of the total cultivated land area, producing 9,10,260 tons of the cereal crop in the region. The average yield rate of maize currently stands at 10.87 tons per hectare of land in the region where the total production of the crop might be around 11,54,580 tonnes after completion of harvest this season.
"The growing demand of maize in the flourishing poultry; dairy and animal husbandry sectors and food industry sectors along with repeated bumper production and lucrative market price is inspiring famers to further expand its cultivation," Hossain said.
The government provided special incentives, high yielding varieties of maize seeds and fertilizers and latest technologies to small, marginal and flood-hit farmers to enhance maize cultivation this season.
Talking to BSS, farmers Abdul Momin, Rezaul Islam, Moyen Uddin and Manik Mian of different villages in Rangpur Sadar upazila said they were selling newly harvested maize at better rates between Taka 1,200 and 1,250 per mound to reap all-time high profits.
"During the previous season, farmers sold maize at the rates between Taka 800 and Taka 850 per mound in local markets," said farmer Ariful Haque of village Najirdigar in Rangpur Sadar upazila. "Repeated bumper output with lucrative market price of maize every year is helping farmers to earn huge profits improving their livelihoods and living standard by cutting poverty during the last 13 years," Rashid added.
Agriculturalist Dr Md Abdul Mazid, who got the Independence Medal-2018 (food security), stressed on expanding cultivation of the low-irrigation water consuming maize crop also to save huge underground water amid changing climate. There is a huge prospect to further increase maize production through bringing the vast tracts of abandoned char lands of the northern region under its farming to ensure food security amid changing climate.
"Cultivation of maize is highly profitable and brings lucrative profits to farmers following its increasing demand in the animal husbandry, poultry and food industry sectors across the country," he added.