DAE takes massive programme for cultivating summer vegetables in Jashore region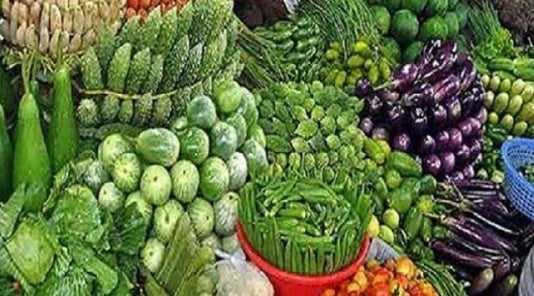 JASHORE, May 19, 2022 (BSS) - The Department of Agriculture Extension (DAE) has taken up a massive programme to cultivate summer vegetables in all six districts of Jashore Agricultural Zone, during the current season.
The DAE office sources said under the programme, a target has been designed to produce 10.48 lakh tonnes of summer vegetables from 49,966 hectares of land in six districts of the DAE Jashore Zone.
The six districts are- Jashore, Jhenaidah, Magura, Kushtia, Chuadanga and Meherpur.
District wise summer vegetables cultivation follows as: 15,100 hectares of land have been brought under the cultivation with production target 3,39,750 tonnes in Jashore, 10,200 hectares of land with production target 1,97,370 tonnes in Jhenaidah, 3,525 hectares of land with production target 65,213 tonnes in Magura, 7,350 hectares of land with production target tonnes 1,76,400 tonnes in Kushtia, 8,611 hectares of land with production target 1,63,609 tonnes in Chuadanga and 5,180 hectares of land with production target 1,06,190 tonnes in Meherpur district.
Growers have continued rendering field-level service to cultivate vegetables on the fulfill the targeted land, farmers and officials sources said.
Additional director of Jashore Agricultural Zone, Hridayeshwar Datta said farmers are showing their keen interest for cultivating summer vegetables like brinjal, lady's finger, red and green leafy, cucumber, sweet gourd, bottle gourd, potol, tomato and arum in the districts as the farm lands of the districts is suitable for vegetable cultivation and they can earn more cash money easily by selling these in the local markets.
"Apart from these, the cultivators are coming forward to cultivate summer vegetables as the government inspired them by ensuring proper supply of improved quality seeds, fertilizers and other agricultural equipment at fair prices at the door-steps of the farmers through different state-run agencies including BCIC and BADC", he said.
The field-level officials and crops specialists of DAE have continued working to educate the vegetables growers for taking modern methods of the vegetables cultivation through using latest technologies and reducing production costs, the additional director informed.

"Meanwhile, the harvesting of summer vegetables is going on in many rural areas of the districts and the growers are being delighted after getting better prices of their produced vegetables", the AD added.