Farmers urged to boost mustard seed production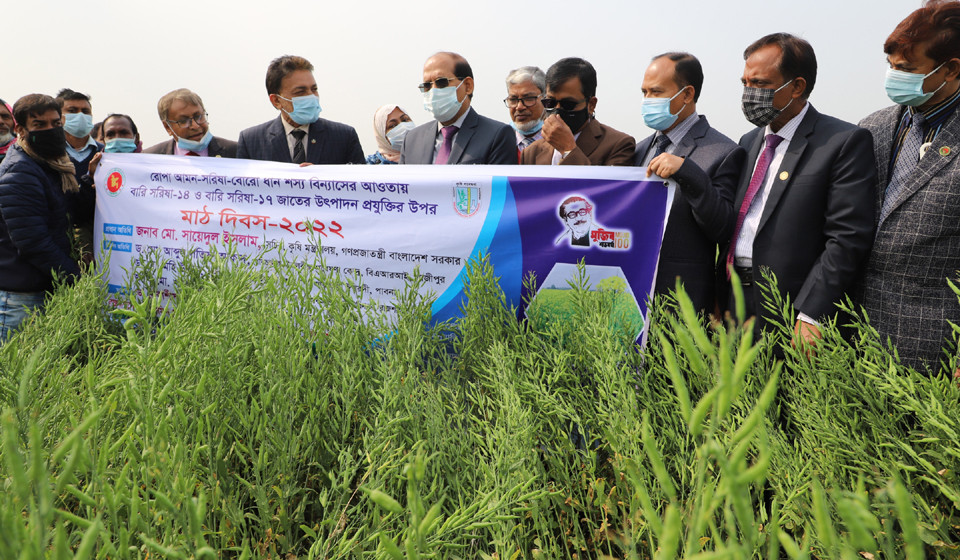 RAJSHAHI, Jan 29, 2022 (BSS) - Speakers at a function here stressed the need for enhanced production of mustard seed to meet the local demand along with lessening the gradually mounting pressure on import of the edible oil.
They opined that there is an immense prospect of boosting production of the oilseed, including BARI Sarisha-18 (Canola type), after the best uses of modern varieties and technologies in the region, including its vast Barind tract.
Utmost emphasis should be given on expanding the high yielding varieties and modern technologies to the farmers so that they can avail scopes of boosting production after deriving total benefits of those, they added.
Agricultural scientists and researchers came up with the observation while addressing a field day meeting on "Productivity and production technology of BARI Sharisha- 14, BARI Sharisha- 17 and BARI Sharisha- 18" here yesterday afternoon.
Oilseed Research Centre (ORC) of Bangladesh Agriculture Research Institute (BARI) hosted the ceremony at Fruit Research Station (FRS) in Rajshahi discussing and devising ways and means on how to meet the country's demand with domestic production instead of import.
Secretary of the Ministry of Agriculture Sayedul Islam addressed the function as the chief guest, while BARI Director General Debashish Sarker was in the chair.
Director General of Bangladesh Sugar Crop Research Institute Dr Amzad Hossain, Director of Oil Seed Research Centre Dr Abdul Latif Akanda, Director of Pulse Research Centre Dr Mohiuddin and Additional Director of the Department of Agricultural Extension Khayer Uddin Mollah also spoke, disseminating their expertise on the issue.
Sayedul Islam urged the farmers to expand farming of high yielding varieties of mustard on a larger scale to get desired output to supplement government initiatives to ensure food security.
He told the meeting that the government under the dynamic and visionary leadership of Prime Minister Sheikh Hasina achieved food security as a result of providing the latest agri-technologies innovated by the agri-scientists besides ensuring adequate supply of fertilizers, pesticides and other agri-inputs to the farmers.
He urged the farmers to turn their one crop and two crops land into three crops ones to build poverty and hunger free country and achieve the sustainable development goals by 2030.
He also said the country imports edible oil worth around Taka 22,000 crore to meet the demand every year so there is no way but to boost domestic production to cut the import pressure.
Islam, however, mentioned that the government has attached highest priority on agriculture sector and added that the field level officials and researchers should take the responsibilities of reaching the government's services to the farmers' doorsteps.
Earlier, they visited some of the demonstration plots of the high yielding mustard varieties, including BARI Sarisha-18 (Canola type), at different areas of the district and FRS compound.