Netrakona farmers passing busy time in Boro rice farming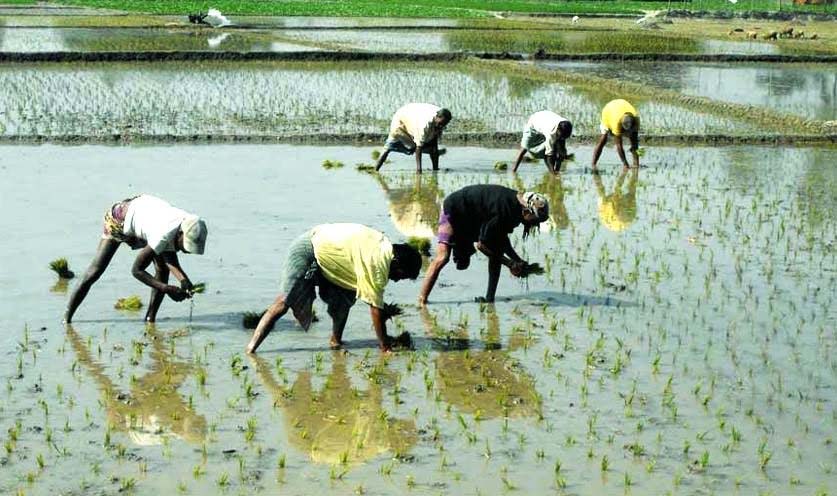 NETRAKONA Jan 13, 2022 (BSS) - Farmers are passing their busy times for transplantation of Boro rice seedlings on their prepared farm lands in all the ten upazilas of the district during the current month of January.
Department of Agriculture Extension (DAE) in Netrakona office sources here said the Boro cultivators have transplanted the Boro rice seedlings on 60,000 hectors of land in the district.
The DAE has designed a plan to produce 7,70,702 metric tons of clean Boro rice from 1,84,575 hectors of land in the district during the current Rabi season.
Following the plan, the Boro cultivators will produce 1,69,812 tonnes of hybrid variety of Boro rice from 34,588 hectors of land of the district, 6,00377 tonnes of high yielding variety (HYV) of Boro rice from 1,49, 720 hectors of land and 513 tonnes of local variety of Boro rice from 270 hectors of land.
By this time, the government has provided agricultural incentives to small and marginal farmers of the district to make them capable to run Boro cultivation without facing any problem.
Talking to BSS correspondent, deputy director (DD) of DAE Netrakona FM Mubarak Ali said, under the agriculture incentive giving program, the government has already distributed 180 tonnes of improved variety Boro seeds , 200 tonnes of MOP and 200 tonnes of DAP fertilizer among the 60,000 small and marginal farmers of the district.
Apart from this, the government has ensured proper supply of improved quality Boro seeds, fertilizers and other irrigation and agricultural equipment to the door-steps of the Boro cultivators through different state-run agencies including BADC and BCIC to help them, he said.
"The government has also been ensuring un-interrupted supply of electricity through power development board (PDB) and rural electrification board (REB) to keep the irrigation machineries including deep tube wells and shallow tube wells of the farmers operative round the clock", he informed.
Following directives of the government, different state-run commercial banks including Bangladesh Krishi Bank are disbursing Boro crops loan among the Boro cultivators to assist them for running their Boro cultivation network without facing financial crisis, the DD said.
The crops specialists and field-level officials of the DAE are rendering their field-level service to let the farmers know about the modern methods of Boro crops cultivation through using latest technologies and reducing production costs, the deputy director added.