Over 13.08-lakh tonnes onion production expected in Rajshahi division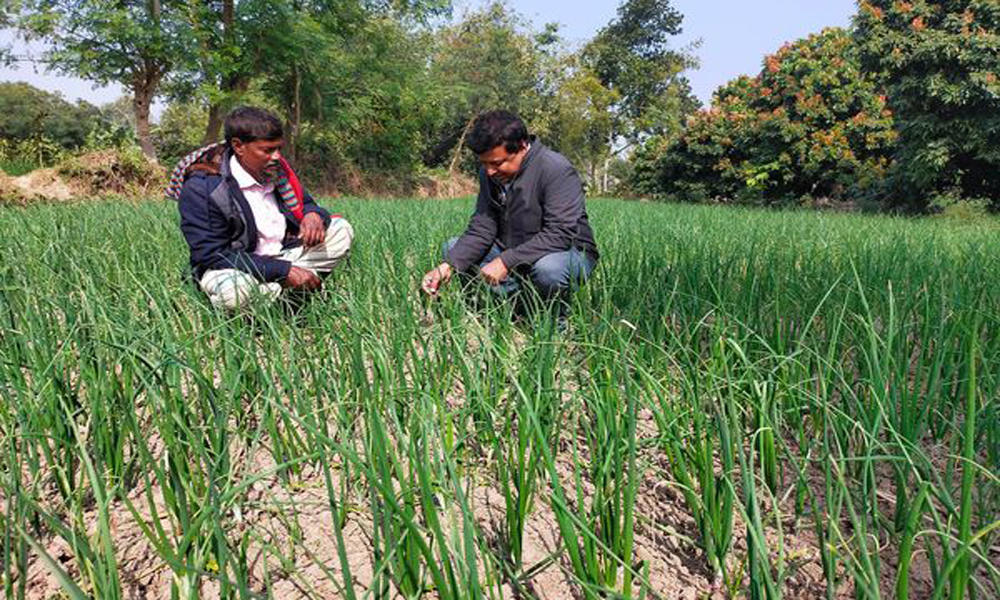 RAJSHAHI, Jan 11, 2022 (BSS) - Over 13.09 lakh tonnes of onion is expected
to be produced from around 90,430 hectares of land in all eight districts of
the division during the ongoing Rabi season.
The Department of Agricultural Extension (DAE) has set a target of
producing around 4.95 lakh tonnes of the cooking ingredient from 31,430
hectares of land in four districts of Rajshahi Agricultural Zone, while 8.13
lakh tonnes from 59,000 hectares in four other districts of Bogura Zone.
The DAE has already intensified steps for enhancing onion production
through encouraging the farmers to cultivate it for fulfilling the country's
demand.
Sirajul Islam, Additional Director of DAE, said the grassroots farmers are
being given ideas and modern knowledge to get good yield through the best
management of fertilizer, irrigation and pesticides.
Simultaneously, the farmers are also seen showing their interests in onion
farming side by side with paddy, wheat, maize and winter vegetables amid
massive demand and exorbitant price of the spice crop in the present market.
Agriculturist Islam said around 9,000 farmers were given seeds and
fertilizers worth around Taka 25.12 crore as incentives for onion farming on
9,000 bighas of land in the division under the current rabi season's
agricultural incentive programme.
Each of the farmers was given the support for onion farming on ten
decimals of land.
Meanwhile, the farmers are seen bustling with transplanting seedlings of
summer onion everywhere in the region with the hope of satisfactory yield and
market price.
Sub Assistant Agriculture Officer Atanu Sarker told BSS that around sixty
percent transplantation has been completed so far.
Many other farmers are also seen very busy with harvesting and marketing
of the tuber onion at present.
Currently, both the wholesale and retail markets are abundant with the
newly harvested tuber onion reducing the price hike of the cooking
ingredient.
The onion is being sold at Taka 35 to 40 per kilogram in retail markets at
present.
Around 21,000 hectares of land were brought under the tuber onion
cultivation in the division this year.
Nurul Islam, 46, a farmer of Mathura village under Bagmara Upazila, said
he cultivated onion on two bighas of land this year. He got lucrative prices
for the crops in the past couple of months.
In Rajshahi, onion of Tahirpur variety is very much popular in the region
as most of the farmers cultivate it for a long time, Moyez Uddin, another
farmer of Ghasigram village under Mohanpur Upazila, said.
Mijanur Rahman, 45, a farmer of Krishnapur village under Tanore Upazila,
said there is a bright prospect of bringing more acreage under onion farming
in the Barind region as the farmers are very much interested to cultivate the
crop for its less water consuming feature.
Rahman said he is very happy cultivating various less-water consuming
crops like onions.
"I had to face many troubles to manage irrigation water for boro
cultivation," he said. But, the cultivation of water-saving crops is suitable
for the farmers of the area, he added.
Upazila Agriculture Officer Shamimul Islam said onion farming spreads this
year than previous year.
Various government and non-government entities including Barind
Multipurpose Development Authority (BMDA) have been conducting different
motivational programmes among the farmers to promote the water-saving crops
in the drought-prone Barind area.
More than 1,500 volunteers are motivating farmers to cultivate less water
consuming crops through water resource management on behalf of the
'Integrated Water Resource Management (IWRM)' Project.
DASCOH Foundation has been implementing the IWRM project in 1,280 drought-
hit villages of 39 Union Parishad and three municipalities in eight upazilas
of Rajshahi, Naogaon and Chapainawabganj districts supported by Switzerland
since 2015.