Experts for organic pesticide management in betel leaf farming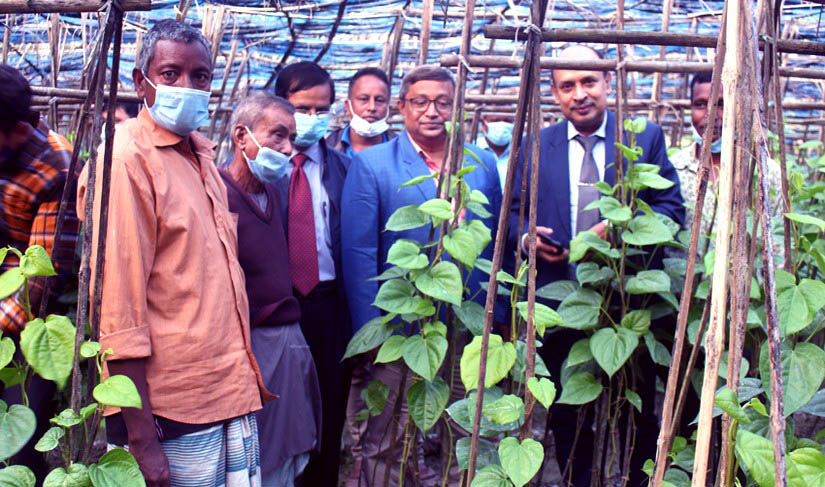 RANGPUR, Nov 23, 2021 (BSS) - Experts at a farmers' field day have stressed
on adopting organic pesticide based technologies for insect pests and disease
management in betel leaf farming to enable farmers in getting more profits.
They opined this at the event on insect pests and disease management
through organic pesticide based technology held at village Alodatpur in
Gangachara upazila here on Monday afternoon.
Regional Agricultural Research Station (RARS) of Bangladesh Agricultural
Research Institute (BARI) at Burirhat in Rangpur organised the event
participated by local betel leaf farmers.
Additional Secretary (Research) of the Ministry of Agriculture Kamala
Ranjan Das attended the occasion as the chief guest.
With Chief Scientific Officer of BARI at RARS Agriculturist Dr. Ashish
Kumar Saha in the chair, Deputy Director of the Department of Agricultural
Extension (DAE) for Rangpur Md. Obaidur Rahman Mandal was present in the
event as special guest.
Principal Scientific Officers of RARS at Burirhat Agriculturist Dr. Md.
Obaidul Haque and Agriculturist Md. Anwar Zahid and Additional Deputy
Director of the DAE for Rangpur Ashok Roy were present.
Senior Scientific Officer of RARS at Burirhat Agriculturist Dr. Md. Harun-
Ar-Rashid presented organic pesticide based technologies for insect pests and
disease management in betel leaf cultivation.
He said farmers are cultivating betel leaf on 498.72 hectares of land in
6,449 betel leaf 'Baraz' and producing 3968.47 metric tonnes of betel leaf
annually in all five districts of Rangpur agriculture region.
As a result of long-term cultivation of betel leaf on the same land,
outbreak of various types of betel insects and diseases are being noticed in
the region.
Farmers use a lot of pesticides and fungicides to control pests and
diseases and they are failing to manage the menace as the pests and diseases
have become tolerant to pesticides and fungicides.
"It is possible to successfully control the black flies, whiteflies, leaf-
eating insects and mites by using the organic pesticides Ontario, Fizimite
and Spinosade in phases in growing betel leaf plants," he said
It is also possible to successfully control root rot, leaf and leaf rot and
anthracnose diseases by applying Dynamic and Lycomax.
Farmer Sachin Roy on his exhibition plot said if organic pesticides were
readily available in local markets, farmers would be able to use organic
pesticides easily.
"If betel leaf produced using organic pesticide technology could be
exported abroad, betel leaf growers would get fair prices and become
motivated to use organic pesticide technology," he said.
Farmers Jyoti Krishna Roy and Rakhal Chandra Roy requested for imparting
training to more farmers on betel leaf production using organic pesticide
technology.
The chief guest said organic pesticides would be made available in local
markets at affordable prices and a large number of farmers would be brought
under training in this regard.
"Good management of soil testing will be ensured for the croplands of
farmers under betel cultivation," he added.
Dr. Ashish Kumar Saha suggested farmers to cultivate BARI Pan-3 variety of
betel leaf to enhance production and get more profits.