Summer cauliflower farming gains popularity in Rajshahi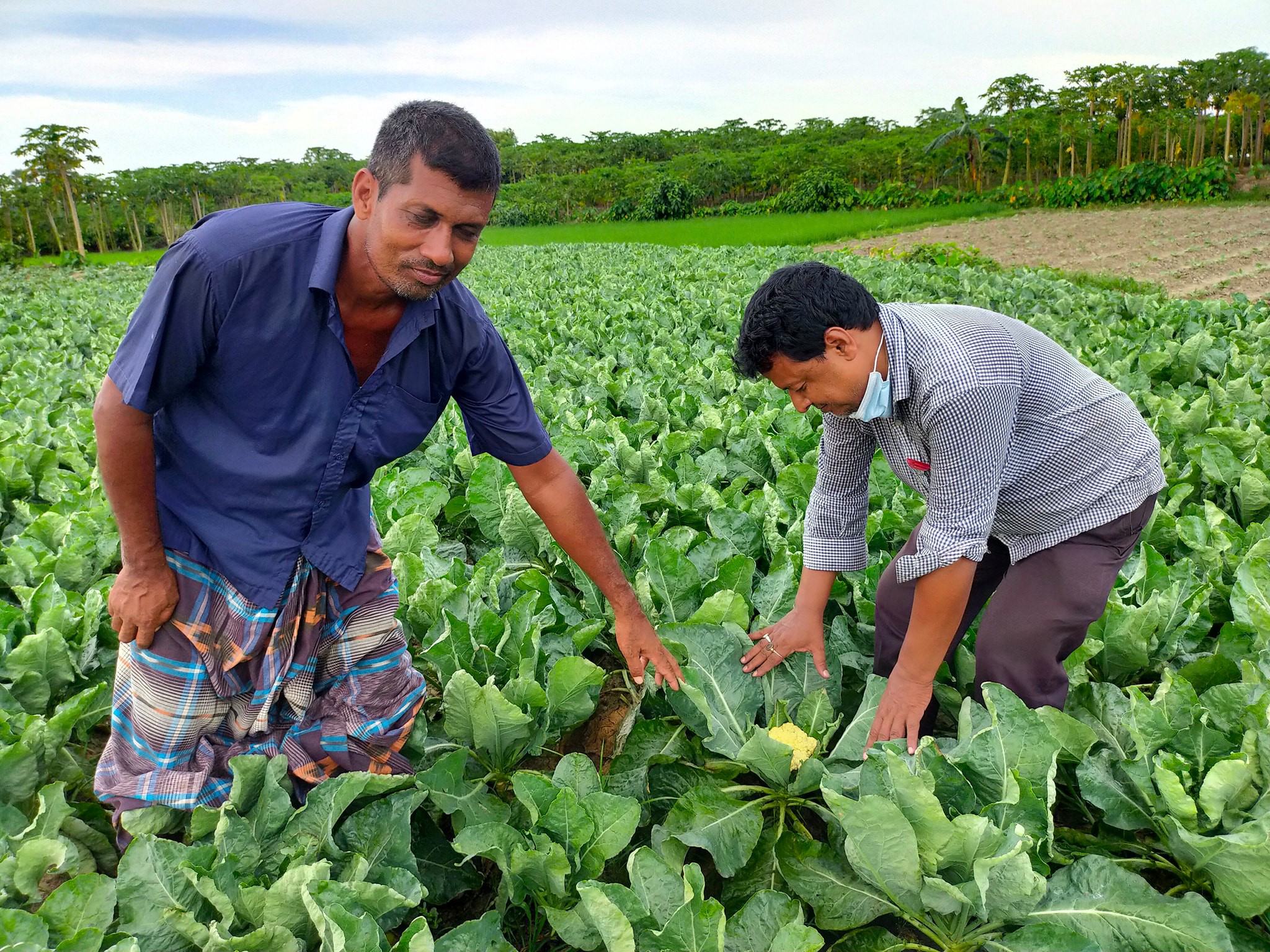 RAJSHAHI, Sept 15, 2023 (BSS) - Farming of summer cauliflower has been gaining popularity as it's making both farmers and consumers delighted in the region, including its vast Barind tract, for the last couple of years.
The non-season vegetables are giving better profit to the growers compared to the winter season at present, inspiring more people to cultivate the cash crop.
Cauliflower is mainly a winter vegetable but the farmers have been cultivating it during the summer season in the region for the last couple of years to earn more money as the consumer-level demand is gradually mounting.
Meanwhile, the vegetable crop has been appearing in both wholesale and retail markets for the last couple of weeks satisfactorily.

As a whole, it has become a boon for many grassroots farmers for its economic prospect in the region side by side with bringing crop diversity and making the local economy vibrant.

Monirul Islam, a resident of Dhamila village, said the cauliflower is being sold at Taka 60 to 70 in the retail market. Around one week back, the price was much higher.

He brought five bigha of land under cabbage farming during the current season and around 10-15 more days are needed to harvest those," he added.
Muhammad Milon, 45, another farmer of Golai village under Godagari Upazila in the district, has cultivated cauliflower on around 12 bigha of land and has been selling it for the last six to seven days.

He has already sold the product of one bigha of land at Taka 1.60 lakh on the spot last week. Milon said that the production cost was around Taka 30,000 to Taka 35,000.

Normally, early harvest of most of the vegetable crops either in summer or winter is always lucrative to the growers as its price becomes to a greater extent compared to the peak season.

Milon has started cultivating cauliflower and cabbage on around 30 bigha of land in June last and will continue the farming till the coming winter repeatedly in multiple phases.

Sub Assistant Agriculture Officer Atanu Saker said they are witnessing more interest among the farmers towards summer cauliflower and cabbage farming in the region.

Currently, around 40 enthusiastic farmers of six villages are seen cultivating the high-valued crops on around 300 bigha of land only in Iswaripur block of Dewpara Union and most of them are delighted over the farming.

Atanu Saker said they are extending technical support to the farmers to make the vegetable farming profitable. The vegetable farming is more profitable compared to the cereal crops, including paddy.

Mozder Hossain, Deputy Director of Department of Agriculture Extension, told BSS that cauliflower and cabbage are being cultivated on around 30 hectares of land in the district at present.
Godagari, Paba, Puthiya and Durgapur Upazilas are seen dominating in this field.

Farmers get benefits by farming vegetables. It brings smiles on marginal farmers and poor people's faces.

On behalf of the 'Integrated Water Resource Management (IWRM)' project, more than 12.60 lakh community people of 2.66 lakh households are being motivated and encouraged towards farming of the low-water consuming crops, including vegetables, to reduce the pressure on underground water.

The project is being implemented in around 1,280 drought-hit villages in 39 Union Parishads (Ups) and three municipalities of eight upazilas in Rajshahi, Naogaon and Chapainawabganj districts since 2015, said Jahangir Alam Khan, coordinator of the project.