Rangpur farmers happy to get bumper groundnut output, rewarding price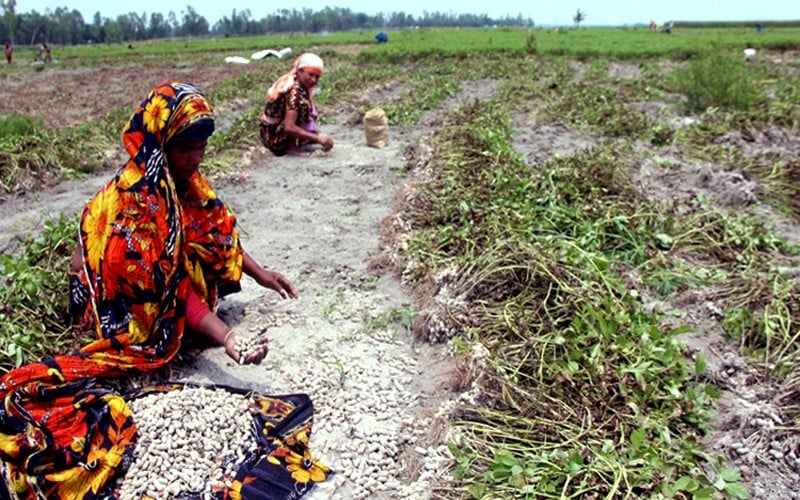 RANGPUR, May 29, 2023 (BSS)-The farmers are very happy getting a bumper production of 11,734 metric tonnes of groundnut and rewarding market price in Rangpur agriculture region during the just-ended 2022-2023 Robi season.

Market sources said, the farmers are selling newly harvested groundnuts to the wholesalers at all-time record rates between Taka 5,200 to 5,500 per mound (every 40 kgs) to reap huge profits in this season.

"Farmers are earning an average profit of Taka 80,000 by producing 22 to 25 mounds of groundnut per acre of land excluding farming costs of about Taka 25,000 per acre," groundnut trader Mokhlesur Rahman at Rangpur City Bazar told BSS today.

Officials of the Department of Agricultural Extension (DAE) said a target of producing 12,240 tonnes of groundnut was fixed from 6,301 hectares of land for the region this time.

"However, farmers finally cultivated groundnut on 5,648 hectares of land, less by only 653 hectares of land against the fixed farming target," said Additional Director of the DAE-Rangpur region Agriculturist Md. Aftab Hossain.

After completing the harvest, farmers produced 11,734 tonnes of groundnut, higher by 506 tonnes against the fixed production target in all five Rangpur, Gaibandha, Lalmonirhat, Kurigram and Nilphamari districts in the region this time.

During the previous 2021-2022 Robi season, farmers produced 11,988 tonnes of groundnut from 6,190 hectares of land in the region.

During the 2020-2022 Robi season, farmers produced 11,087 tonnes of groundnut by cultivating the crop in 6,190 hectares of land in the region.

Aftab Hossain said, "Farmers are expanding cultivation of groundnut both in the riverine char areas and mainland every year according to the growing demand of the crop in the country's boosting foods industries sector."

Farmers have been reaping more profits getting excellent groundnut production every year following expanded cultivation of its high yielding varieties evolved by Bangladesh Agriculture Research Institute (BARI) on more land.

Because of lower farming costs and excellent prices with huge demand in the local markets, char and riverside people and common farmers are reaping attractive profits from the groundnut cultivation in the region in recent years.

Deputy Director of the DAE, Rangpur Agriculturist Md. Obaidur Rahman Mondal said farmers can earn Taka 80,000 by producing 22 to 25 mounds of groundnut per acre of land, spending Taka 25,000 to Taka 27,000 as farming costs per acre.

"Farmers and char people are expanding cultivation of groundnut every year during the last 14 years following a huge boost of the food industries increasing demand for the agro-commodity," Mondal said.

Talking to BSS, farmers Yasin Ali, Nur Mohammad and Abdur Rahman of village Char Biswanath in Kawnia upazila of Rangpur said they cultivated groundnut on 50 decimals to 100 decimals of sandy char land on the Teesta riverbed this time.

"After completing harvest last month, I got 12 mounds of groundnut and sold the crop from 50 decimals of sandy char land at Taka 5,500 per mound to reap a huge profit excluding the farming costs," Mohammad said.

Farmers Arman Hossain and Saidul Islam of Char Gorokmandal village in Phulbari upazila of Kurigram said he cultivated groundnut on two acres of char land on the Dharla riverbed this time.

"I got a super bumper production of groundnut after completing harvest and earned a net profit of Taka 90,000 excluding all related costs for farming and harvesting of the crop," said Islam.

Similarly, farmers of Char Arazi Hariswar, Gupidanga, Prannath Char, Char Najirdaho, Char Gonai, Char Haricharan, Dhushmarar Char and other char villages under Kawnia upazila expressed happiness over bumper yield of groundnut and excellent market price.