Rangpur farmers happy getting bumper onion output, rewarding price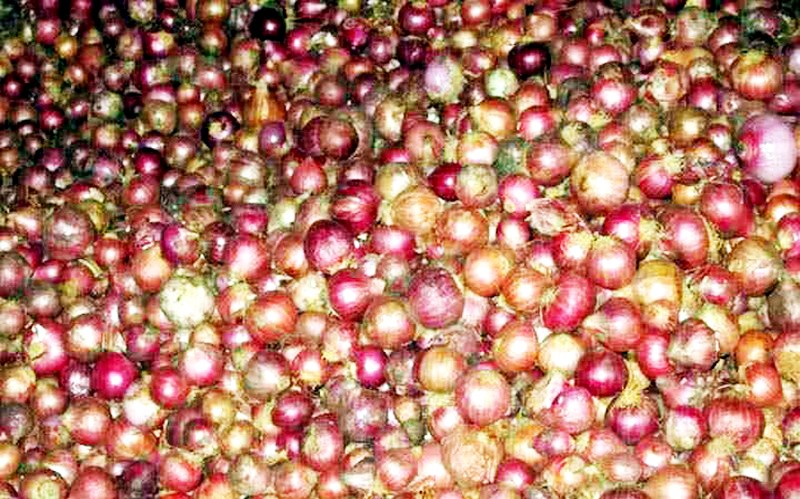 RANGPUR, May 27, 2023 (BSS) - Farmers are happy with bumper production of onions with rewarding market prices in all five districts of Rangpur agriculture region during the Rabi season.

Officials of the Department of Agricultural Extension (DAE) farmers have produced 1,04,263 tonnes of the spicy crop this time against its production of 1,03,809 tonnes during the last Rabi season.

"The produced 1,04,263 tonnes of onion this time is higher by 454 tonnes against its production of 1,03,809 tonnes during the last Rabi season," Additional Director of the DAE for Rangpur region Agriculturist Md. Aftab Hossain said.
Market sources said the price of the locally produced onion is now remaining between Taka 75 and Taka 80 per kilogram in local kitchen markets although the price remained between Taka 40 and 45 even a month ago.

As a result of different pragmatic steps taken by the government to meet local demand for onions on the way to attain self-reliance, cultivation and production of the spicy crop increased every year during the last 14 years.

Earlier, farmers produced 89,970 tonnes during the 2019-2020 Rabi season, 66,886 tonnes during the 2018-2019 Rabi season and 62,673 tonnes of the spicy crop during the 2017-2018 Rabi season in the region.

For the just-ended Rabi season, the DAE had fixed a target of producing 1,13,976 tonnes of onion from 9,755 hectares of land for the region.

"However, farmers finally cultivated onion on 8,834 hectares of land, less by 921 hectares against the fixed farming target, in the region," Aftab said.

Despite a little shortfall in the farming target, farmers got a bumper production of onion and are currently earning a healthier profit this year.

Deputy Director of the DAE for Rangpur Agriculturist Md. Obaidur Rahman Mondal said farmers are cultivating onions by sowing seeds, transplanting seedlings and tuber varieties after being inspired by officials of the DAE and other organisations.

Getting high quality onion seeds and fertilizers as incentives free of costs from the government, small and marginal farmers cultivated onion in more lands, including riverine char areas, to increase production.

There is a brighter possibility to further enhance onion output in the region by ensuring proper crop diversification and adopting latest technologies.

"The DAE, Spices Research Institutes and other related organizations are working satisfactorily to further increase onion production for meeting its local demand and attain self-reliance," Rahman added.

Vegetable retailer Hafizur Rahman at Rangpur City Bazar here today said farmers are selling newly harvested onions at rates between Taka 2,100 and Taka 2,500 per mound (every 40 kgs) to wholesalers.

The retailers are purchasing onions from wholesalers at rates between Taka 2,300 and 2,800 per mound.

"Finally, retailers are currently selling the same at rates between Taka 3,000 and 3,200 per mound or Taka 75 and Taka 80 per kg to consumers depending on the size and quality on an average in local markets," Hafizur added.

Talking to BSS, farmers Dulal Hossain, Babul Akhter, Nur Mian and Ariful Haque of different villages in Rangpur said they were very happy getting a bumper production and lucrative price of onion this time.