8,000 Sherpur farmers to get incentive for Aush cultivation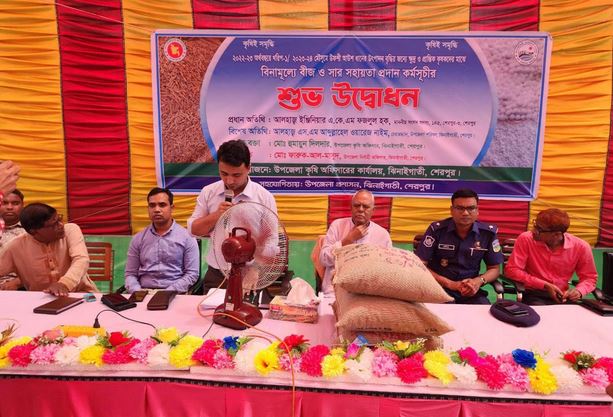 SHERPUR, March 28, 2023 (BSS) - A total of 8,000 small and marginal farmers in five upazilas of the district will get seeds and fertilizers under the Agricultural Incentive Programme free of cost for the cultivation of Aush paddy in the current Kharif season.

The amount of incentive support and the number of farmers have been increased significantly in the current financial year 2022-23 in the district, Department of Agriculture Extension (DAE) said.

Member of Parliament of Sherpur-3 constituency Engineer A.K.M. Fazlul Haque inaugurates the distribution function and handed over the incentive among the farmers of Jhenaigati upazila as the chief guest at a function held in the Jhenaigati upazila complex this morning with Upazila Nirbahi Officer (UNO) Faruk-Al-Masud in the chair

Upazila Administration and Upazila Agriculture Office jointly organized the distribution function.

The chief guest said the present government is farmer-friendly as it has taken various steps for development of agriculture. As a result, farmers will be encouraged to cultivate Aush paddy and the production of Aush paddy will increase in the country.

The benefited farmers are 2,600 in Sherpur Sadar Upazila, 1,350 in Sreebordi upazila, 1,250 in Jhenaigati upazila, 1150 in Nakla upazila and 1,650 in Nalitabari upazila of the district, DAE office sources said.

Under the programme, each farmer will receive five kilograms of Aush paddy seed, 10-kg of Di-ammonium phosphate (DAP) fertilizers and 10-kg of Muriate of potash (MOP) fertilizers free of cost for cultivating one bigha of land.

Deputy Director of Department of Agricultural Extension (DAE) of the district Dr Sukalp Das said distribution work of the incentive among the farmers has already started.