Onion seed becomes boon for many farmers in Rajshahi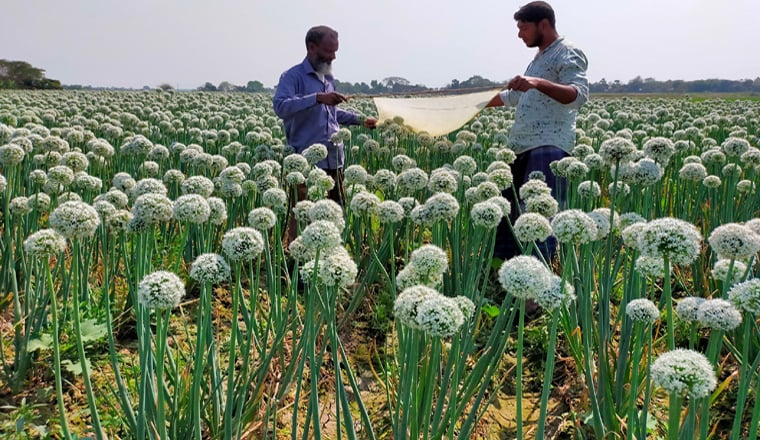 By Md Aynal Haque
RAJSHAHI, March 24, 2023 (BSS) - Farming of onion seed has become a boon for many farmers as many of them have built their fortunes through the venture commercially in the region, including its vast Barind tract, for the last couple of years.
It has also been contributing a lot towards vibrating the agro-based economy besides bringing diversification in the farming system.
Acreage of onion seed farming enhanced to some extent side by side with some other high-valued crops as a result of its lucrative market price.

Akbar Ali, 54, a farmer of Palpur village under Godagari upazila, had harvested around 250 kilograms of seed from three bighas of land last year. He sold the seed at Taka 3,000 to 4,500 per kilogram during the last sowing season.

Ali told BSS that he earned around Taka 1.2 million (12 lakh) after selling the crop last season. The lucrative earning has inspired him to cultivate the onion seed on five bighas of land this year. Production cost is around Taka 50,000 to 60,000 per bigha of land, he added.
Himel Hossain, 43, another farmer of the same village has cultivated the cash crop on four bighas of land this season. He earned around Taka one million (10 lakh) after selling around 300 kilograms of seed last year.

Interests among the farmers towards the seed farming have been enhanced to a greater extent in the region due to soaring onion prices for the last couple of years.
Harun Ahmed (48), a resident of Naohata village under Paba upazila, said he has cultivated onion on one bigha of land to produce seeds from the onion.
Last year, the price of onion-seed was exorbitant and he hoped he would get a satisfactory price of the seed this year as well.

He said commercial farming of onion- seed is gradually increasing in the wake of its increasing demand. Many of the farmers have become self-reliant through commercial farming for the last couple of years.

Ahmed is predicting that around one to two mounds of seed would be produced in one bigha of land during the forthcoming harvesting season. In the last sowing season, per kilogram of seed was sold at Taka 700 to Taka 950.

Price of onion-seed was Taka 5,000 to 6,000 per kilogramme and the saplings of onion were sold at 4,000 to 5,000 per maund. The onion grown from the saplings might be ready to harvest within the next couple of weeks.
Most of the farmers of our area have been cultivating onion seeds for generations," said Taleb Hossain, a farmer at Harishanker village in Godagari upazila of the district.
Godagari Upazila Agriculture Officer Moriam Ahmed said the farmers have cultivated the onion-seed on around 345 hectares of land in the upazila this year, while the previous year's figure was around 250 hectares.

More than 350 farmers have become self-reliant through commercial farming of the crop during the last couple of years, which attracted many to onion seed farming.

Nazmul Haque, 48, another farmer of Tarapur village under Puthiya Upazila, is now dreaming of harvesting onion seeds of Taka 1.6 million (16 lakh) during the current season.

He has cultivated onion seeds on four bighas of land. His eye-catching farming field predicts yielding more than 400 kilograms of seed in the upcoming harvesting season.

"My grandfather used to cultivate onion seeds, and I am doing this too.

Shamsul Wadud, Additional Director of DAE, said the onion-seed production in the division is nearly double this year compared to the previous year. The field condition is so far well and there was no report of any pest attack or damage of onion-seed in the field.

He said the seed onion is getting matured in the fields and farmers are hopeful of a bumper production of onion seed this year.