Sunflower cultivation target exceeds in Khulna region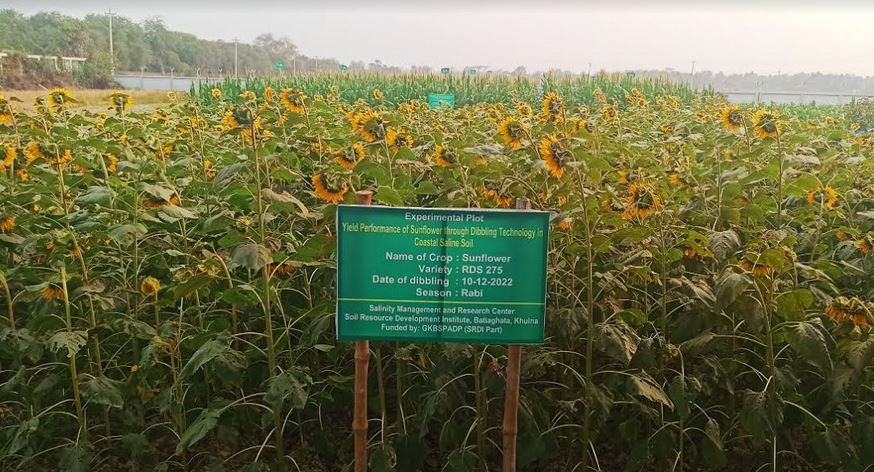 KHULNA, March 14, 2023(BSS) - The sunflower cultivation has exceeded its
target fixed by Agriculture Development Project Crop (GKBSP) in Khulna this
season as its cultivation has been gaining popularity among the farmers.
The GKBSP has fixed the target of sunflower cultivation on 320 hectares of
land in four districts under Khulna region. But its cultivation has exceeded
this target.
The sunflower cultivation has been completed on 2,895 hectares, 2,575
hectares more land of its target.
Additional Director of GKBSP in Khulna region Md Faridul Hasan told BSS that
the sunflower cultivation is lucrative and less expensive.
About 8 maunds of sunflower seed is produced from one bigha of land while
initiatives are underway to create market for selling sunflower seed, he
said.
Sunflower oil is very useful for human body as at least 400 gram oil comes
from one kilogram of sunflower seed. The sunflower cultivation has got a
bright possibility in the region as the weather and soil are conducive for
its cultivation here.
The Government works aiming at an incensement of oilseed production by 40
percent within the next 3 years, he added.
A total of, 20 exhibition plots have been set up by Agriculture Development
Project Crop (GKBSP) in Gopalganj, Khulna, Bagerhat, Satkhira and Pirojpur
under Khulna agricultural region.
Following the instruction of Prime Minister Sheikh Hasina, the sunflower
farming has increased as the fallow land has been brought under sunflower
cultivation, said Amarendunath Biswas, Project Officer of Agriculture
Development Project Crop (GKBSP).
GKBSP have ensured training and motivation regarding sunflower cultivation to
the farmers of the respective areas, he said.
Besides, the government has taken various steps for increasing oilseed
production, he added.