Boro cultivation begins in Narail with 2.2 lakh tons production target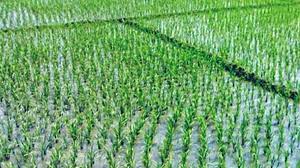 NARAIL, Feb 8, 2023 (BSS) - Farmers in the district have started Boro paddy cultivation with a production target of 2,20,730 tons of rice from three upazilas of the district this year.
Department of Agriculture Extension (DAE) office sources said farmers will complete very soon the cultivation of Boro paddy on 50,000 hectares of land in the three upazilas. Boro cultivation is expected to increase this year due to favourable weather condition and cultivation on 510 hectares more land than last year's.
The target of Boro paddy cultivation has been fixed on 23,230 hectares of land in Sadar upazila, 10,250 hectares of land in Lohagara upazila and 16,520 hectares of land in Kalia upazila, DAE officials said.

Deputy Director of Department of Agriculture Extension (DAE) agriculturist Deepak Kumar Roy said the farmers are being trained and seeds of new varieties are being supplied in three upazilas of the district.

Bangladesh Krishi Bank (BKB) and other banks have provided agricultural loans to farmers on easy terms, he added.