Farmers urged to boost mustard yield to meet country's demand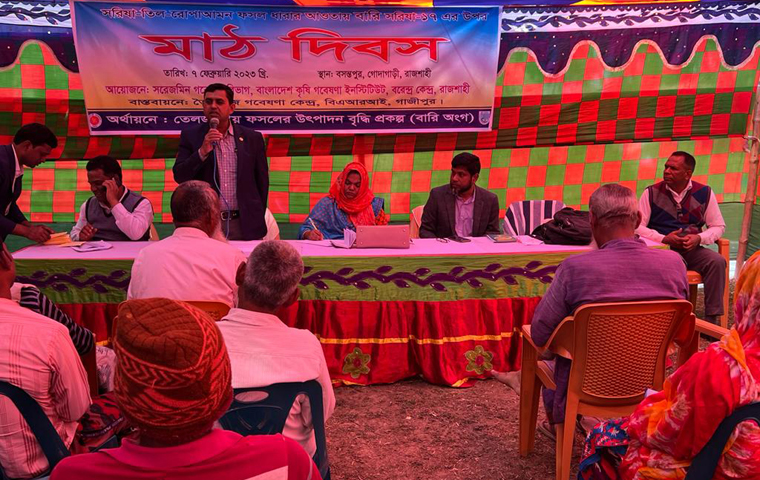 RAJSHAHI, Feb 8, 2023 (BSS) - Scientists and researchers have unequivocally called for boosting mustard yield after the best uses of high yielding varieties, including BARI Sharisha-17, and modern technologies to meet the gradually mounting demand of the cash crop.
Enhancing domestic production can be the crucial means of meeting the local demands through lessening the pressure on import of the edible oil.
They made the observation while addressing a farmers' field day meeting at Basantapur village under Godagari Upazila in the district on Tuesday attended by around 100 farmers and others concerned.
Oil Seed Research Centre (OSRC) and Barind Centre of On Farm Research Division (OFRD) under Bangladesh Agriculture Research Institute (BARI) jointly organized the farmers meeting supported by Enhance production of oil crops (EPOC) project (BARI part).
OFRD Senior Scientific Officer Dr Shakhawat Hossain and OSRC Senior Scientific Officer Dr Rabiul Islam addressed the meeting as resource persons disseminating their expertise on the issue.
With Upazila Agriculture Officer Moriam Ahmed in the chair, the meeting was also addressed by OSRC Scientific Officer Krishna Chandra Saha.
Dr Shakhawat Hossain told the meeting that they are introducing the mustard-sesame-transplanted aman paddy cropping pattern at the Bashantapur area to enhance oilseed production.
He also said the government has given importance to boost oilseed production to lessen the oil deficit. Dr Hossain, however, said the oilseed farming has started rising in the region in the last couple of years.
This year, farmers have brought 16,850 hectares of land under oilseed farming against the previous year's acreage of 8,650 hectares only in Godagari upazila.
He defined that BARI Sharisha-17 is high-yielding and short duration and its oil-extraction is 3-4 times more compared to other varieties.
Dr Rabiul Islam said the country produces only 3.5 lakh tonnes against the annual demands of 15 lakh tonnes.
"We have to import edible oil worth around Taka 30,000 crore to meet the edible oil demand every year so there is no way but to boost domestic production to cut the import pressure," he added.