Excellent plant growth signals bumper wheat yield in Rajshahi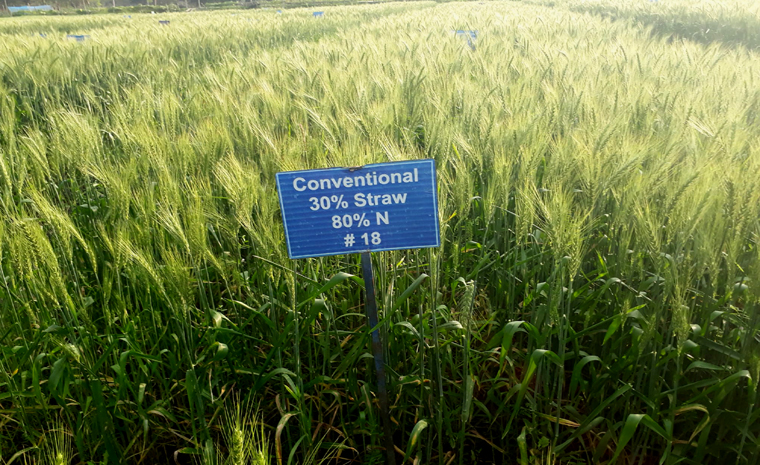 RAJSHAHI, Feb 4, 2023 (BSS) - Excellent growth of wheat plants has created a hope of bumper yield of the cereal crop in the Rajshahi region, including its vast Barind tract.
Moriam Ahmed, Upazila Agriculture Officer at Godagari, said they are witnessing outstanding and eye-catching wheat fields everywhere in the region because of suitable climatic conditions since the initial stage of the farming.

She mentioned that the farmers' interests towards wheat farming have enhanced, to a greater extent, in the region due to various reasons in the last couple of years.
Wheat is one of less-irrigation consuming crops.

Meanwhile, more than 4.71 lakh tonnes of wheat is likely to be produced on around 1.24 lakh hectares of land in the current season in all eight districts of the division.

Department of Agricultural Extension (DAE) has set the target of producing 3.50 lakh tonnes of wheat on 89,658 hectares of land in four districts of Rajshahi Agricultural Zone, while 1.20 lakh tonnes on 34,020 hectares in four districts of Bogura Agricultural Zone.

The DAE had disbursed seeds and fertilizers free of cost among 68,000 small and marginal farmers for wheat cultivation under the government's agricultural incentive programme in the division so that they can boost wheat production.
Many government and non-government organizations concerned are motivating and inspiring the farmers to wheat farming in the water-stressed Barind area in order to lessen the gradually mounting pressure on its groundwater level.

Darul Hossain, 47, of Bhatapara village under Godagari Upazila, has cultivated wheat on four bighas of land and he is happy over his present farming condition. "We have to use less-irrigation for wheat farming compared to Boro paddy farming," he said.

More than 12.58 lakh community people of 2.66 lakh households are being motivated and encouraged towards promoting wheat like water-saving crops with intervention of the 'Integrated Water Resource Management (IWRM)' project.

The project is being implemented by DASCOH Foundation in around 1,280 drought-hit villages under 39 Union Parishads and three municipalities of eight upazilas in Rajshahi, Naogaon and Chapainawabganj districts supported by Switzerland since 2015, Jahangir Alam Khan, Coordinator of IWRM Project.

Darul Hossain, however, said successful promotion of less-water consuming crops in the Barind area would play a vital role to lessen the gradually mounting pressure on its underground water.

Rajshahi Regional Office of Bangladesh Wheat and Maize Research Institute (BWMRI) has developed 320 demonstration plots on farmers' fields.

Prior to this, 320 farmers were given 5.5 tonnes of breeder seeds and 8.5 tonnes of truthfully labelled seeds of some high yielding, heat and drought tolerant and blast disease resistant varieties like Barigom 28, 29, 30 and 33 along with recommended fertilizers for the projection plots free of cost.

Dr Ilias Hossain, Principal Scientific Officer of BWMRI, told BSS that the Barigom 33 is the latest variety which is blast disease resistant, zinc-enriched, large grain size and high yielding (20 maunds per bigha).
He said they are putting in their best efforts for successful promotion of blast-resistant wheat varieties to boost production of the cereal crop to feed the gradually rising population in the country.

Wheat cultivation and production are gradually increasing manifold in the region, including its vast Barind tract, with the introduction of blast disease-resistant varieties of wheat. The blast tolerant varieties created hope among the farmers across the region.