Marginalized farmers avail canal water for irrigation in Barind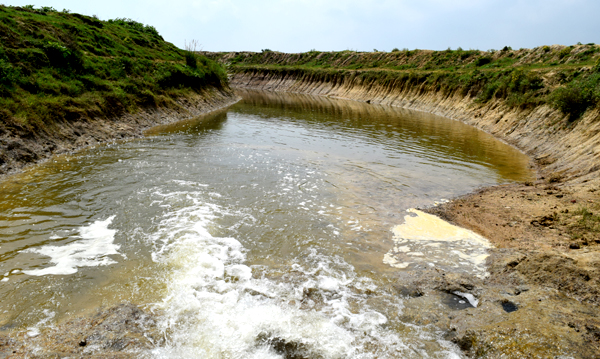 By Dr Aynal Haque
RAJSHAHI, Nov 13, 2021 (BSS) - Marginalized farmers, including ethnic
minority ones, are seen deriving benefits of the re-excavated canals for
irrigation purposes in Barind areas for the last couple of years.
Farmers were gradually becoming accustomed to irrigating their cropping
fields with canal water in the water-stressed Barind area, contributing a lot
towards boosting crop production.
"We are getting water for irrigating our croplands round the year from
the canal at Paharpur village in Godagari upazila of Rajshahi," said Ruhul
Amin, 53, a farmer of the same village.
Expressing his happiness over the canal water based irrigation in the
current transplanted Aman season Amin said canal water contains humus which
is important for soil fertility as well as boosting crop yield.
"We are so happy with getting chances of irrigation using surface water
round the year," Kiron Mormu, 41, another farmer of Shikpur village, said.
Like them, canal water irrigation has made thousands of farmers happy in
the high Barind area as their dependence on deep tube wells and rainfall has
been reduced to some extent.
On behalf of the Integrated Water Resource Management (IWRM) Project,
five derelict canals were re-excavated in Gogram, Godagari and Mohanpur
Unions in Godagari Upazila and Badhair and Kalma Unions in Tanore Upazila
with 15,523 feet in length so far.
The canals were re-excavated to preserve rain water in monsoon and
provide supplementary irrigation in Aman crop and vegetable farming. At the
same time this is contributing to recharge ground water. Main goal of the
initiative is to stop groundwater abstraction in the late monsoon.
IWRM Project Coordinator Jahangir Alam Khan said 9,423 farmers of 1,909
families, including 321 ethnic minority ones have got scopes of bringing 571
hectares of land under irrigation in the adjacent villages.
The project is being implemented in drought-affected 39 Union Parishads
and three Pourasavas in Rajshahi, Chapainawabganj and Naogaon districts since
2015.
DASCOH Foundation and Swiss Red Cross are jointly implementing the
project supported by Switzerland with the main thrust of protecting crops
from any drought like situation.
Jahangir Khan said the IWRM project intends to build UPs as an effective
and pro- people institution through farmers' level sustainable water resource
management models with participation of local people.
Badhair Union Parishad Chairman Ataur Rahman said canal water irrigation
has been contributing Transplanted Aman (T-Aman) paddy in the high Barind
tract through lessening the gradually mounting pressure on underground water.
Lakxmi Rani, 48, a farmer of Kalma village said she uses water from the
Kalma canal for her T-Aman field. "I have cultivated paddy on 15 bighas of
land.
Now, I am totally dependent on the canal water for transplanting and
protecting the growing crop," Rani added.
Ashraful Islam, another farmer of the same village, protected his paddy
on five bighas of land from the rainless condition after using water from
Kalma canal.
He said canal water has become blessings for many farmers in terms of
surviving their transplanted paddy. Golam Mostofa, another farmer of Mohanpur
village, has brought ten bigha of land under transplanted aman paddy
cultivation through using water from a nearby re-excavated canal.