Social safety-net programmes help poor amid pandemic in Rangpur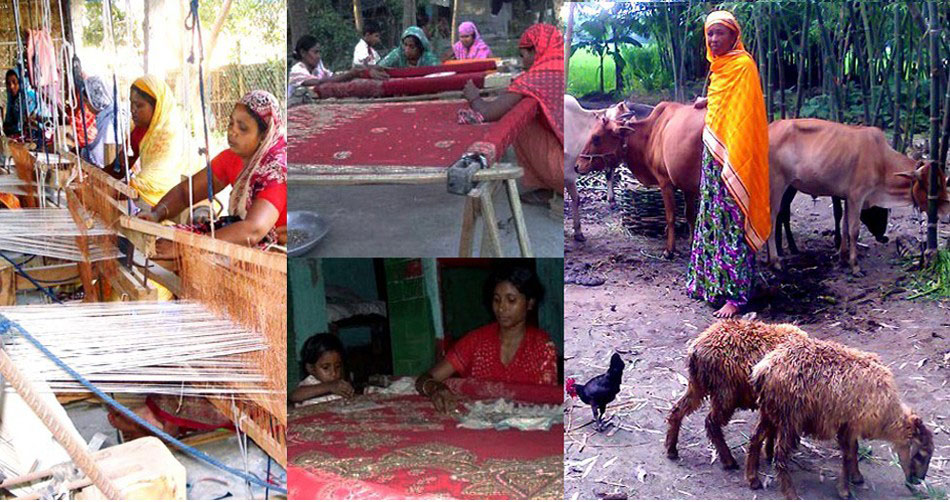 RANGPUR, Sept 18, 2021 (BSS) - The social safety net programmes (SSNPs)
help poor lead better life amid the Covid-19 pandemic in Rangpur division.
Officials and development experts said poor families are leading a
dignified life during the pandemic after getting more assistance from the
SSNPs, one of the ten special initiatives of Prime Minister Sheikh Hasina.
"The government has expanded the periphery of safety net programmes and
continues implementing those transparently at grassroots levels to ensure
food security of the poor during the pandemic," said Divisional Commissioner
Abdul Wahhab Bhuiyan.
The SSNPs include employment generation, general and test reliefs, food for
work and work for money, VGD, VGF, Amar Bari-Amar Khamar, Asrayan Prakalpa,
various allowances, food friendly programmes and many other schemes.
"Since the beginning of the pandemic, the government has distributed huge
quantities of rice with other foodstuffs and cash money as special assistance
among the poor, helpless, destitute and marginal families in all eight
districts of the division," he said.
Besides, thousands of homeless families rehabilitated in Asrayan Prakalpa
and Cluster Villages are engaged in income generating activities (IGAs) and
leading better life after getting necessary assistance from different
government departments.
"Alongside massive SSNPs, the government is providing special assistance to
the poor, including those living in Asrayan Prakalpa, Cluster Villages and
erstwhile enclaves, to help them lead a better life during the pandemic,"
Bhuiyan added.
Chairman of Northbengal Institute of Development Studies Dr Syed
Samsuzzaman, a development expert, said triumphant execution of SSNPs is
playing a crucial role in helping the poor to tackle the pandemic situation.
Talking to BSS, Rangpur District Coordinator of Amar Bari, Amar Khamar
(ABAK) project Jahadul Islam said over 1.70 lakh families have improved
livelihoods through IGAs utilising training, assistance and micro-credits
under the project in Rangpur alone.
Beneficiary of the ABAK project Alifa Begum of Kursha Balorampur village of
Sadar upazila said she purchased heifers, goats and sheep after getting
interest-free loans Taka 10,000, Taka 15,000 and Taka 30,000 in various
phases since 2012.
"Currently, I have 10 cows, 18 goats and 25 sheep, three acres of
cultivable land taken on lease along with other assets worth Taka 12 lakh. I
am leading a better life with family members even during the pandemic
situation," Begum said.
Talking to BSS, rehabilitated couple Ashraful Islam and his wife Sabina
Yasmin at Osmanpur Khamarerdanga Asrayan Prakalpa in Badarganj upazila of
Rangpur said they have become self-reliant through various IGAs.
They struggled a lot for survival a decade ago until their rehabilitation
at the Asrayan Prakalpa.
"Properly utilising the microcredit loans received from the Asrayan
Prakalpa, we have now 16 cattle-heads, furniture, television and solar
panel," Islam said, adding that he has built a semi-pucca house and set up a
dairy farm.
"Value of my total assets and properties may be around Taka 22 lakh,"
Ashraful added.
Rehabilitated couple Dulu Mian and Lovely Begum at Chengmari-2 Asrayan
Prakalpa in Gangachara upazila of Rangpur said they got revolving microcredit
loans several times from Upazila Cooperative Office after rehabilitation
there since 2010.
Alongside repayment of loans, the couple expanded fish business, married
off their daughters Dulali, Angura and Shahana with the money they earned
from fish business.