Negative politics of BNP sinks in Padma: Quader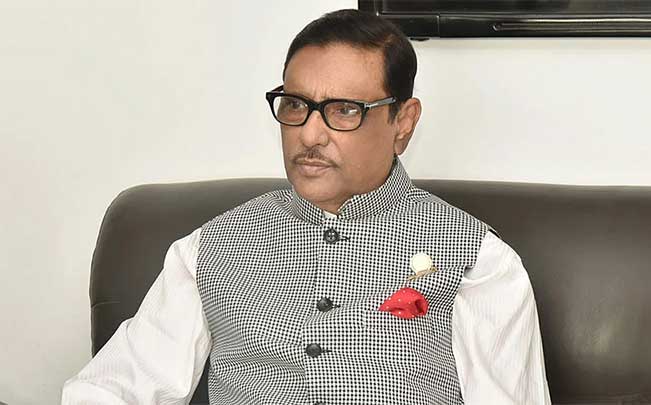 DHAKA, June 27, 2022 (BSS) - Awami League General Secretary and Road
Transport and Bridges Minister Obaidul Quader today said the negative
politics of Bangladesh Nationalist Party (BNP) has gone under the water of
Padma River due to the development politics of Prime Minister Sheikh Hasina.

"BNP leaders are now suffering from the trepidation of election and fear of
public outrage," he said in a statement sent to media today, responding to a
remark of BNP secretary general Mirza Fakhrul Islam Alamgir.

BNP's frustration and political dearth were exposed from the statement, he
said, adding the countrymen have full confidence in the government, led by
Prime Minister Sheikh Hasina, and that is why it has no fear.

Mentioning that the BNP opposed the construction of Padma Bridge but the
bridge was built due to the courageous leadership of Prime Minister Sheikh
Hasina, the AL general secretary said, adding all the plots and obstacles of
BNP have failed to halt the country's development spree carried out by the AL
government.

"So, the BNP leaders are getting frustrated day by day", he added.

Quader said the role of strong and responsible opposition is very significant
in democracy, but the BNP's irresponsibility and double
standard policy have become an endless obstacle to the progress of democracy.
Although the BNP's politics is now revolving around the quicksand of
mistakes, the party is still practicing audacious politics, he said.

Noting that the BNP believes in anti-nation and anti-development propaganda
and rumours, the road transport and bridges minister said: "In fact, the BNP
is a conspiracy-lover and evil force".

Blaming that the BNP never stands by the people of the country in crisis, he
said when the government and AL leaders and workers are working relentlessly
to help the flood-hit people, the BNP leaders are busy with photo sessions
in oder to present themselves to people.