Rangpur record highest 954 Covid-19 cases, nine more die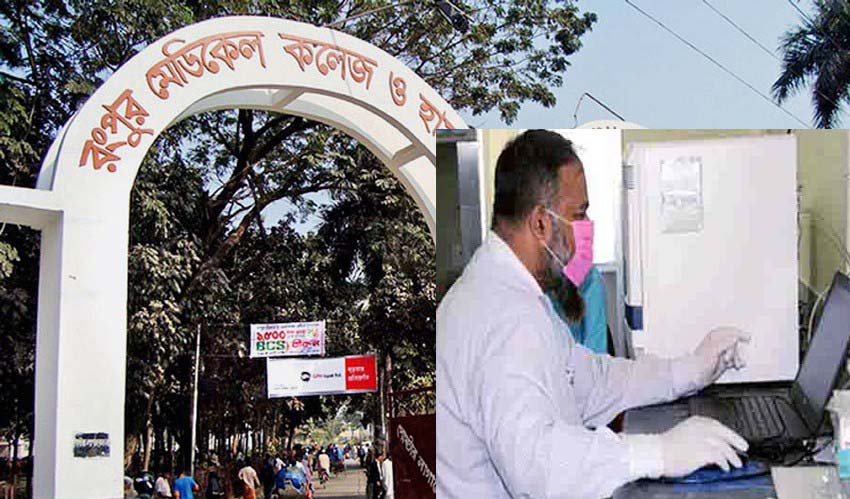 RANGPUR, July 30, 2021 (BSS) – The highest 954 Covid-19 cases was recorded in a day on Thursday since the beginning of the pandemic in Rangpur division where nine more patients died during the last 24 hours.
Health officials said the number of Covid-19 cases quickly climbed to 43,940 as 954 more patients were reported after testing 3,550 samples of the division at the daily positivity rate of 26.87 percent on Thursday.

Earlier, the daily positivity rates were 28.63 percent on Wednesday, 28.02 percent on Tuesday, 26.92 percent on Monday, 27.36 percent on Sunday, 27.38 percent on Saturday and 25.27 percent on Friday last in the division.

"The positivity rate continues rising across the division during the last more than one and a half months," Focal Person of Covid-19 and Assistant Director (Health) for Rangpur division Dr ZA Siddiqui told BSS today.

The district-wise break up of total 43,940 patients stands at 9,727 in Rangpur, 2,693 in Panchagarh, 3,523 in Nilphamari, 2,192 in Lalmonirhat, 3,425 in Kurigram, 6,016 in Thakurgaon, 12,584 in Dinajpur and 3,780 in Gaibandha.

"Since the beginning, a total of 2,16,571 collected samples were tested till Thursday, and of them, 43,940 were found Covid-19 positive with an average positivity rate of 20.29 percent," Dr Siddiqui said.

Talking to BSS, Divisional Director (Health) Dr Md Motaharul Islam said nine more people died of Covid-19 during the last 24 hours ending at 8 am today raising the total number of casualties to 902 in the division.

The district-wise break-up of the 902 fatalities now stands at 195 in Rangpur, 55 in Panchagarh, 64 in Nilphamari, 55 in Lalmonirhat, 52 in Kurigram, 173 in Thakurgaon, 266 in Dinajpur and 42 in Gaibandha of the division.

"The average casualty rate currently stands at 2.05 percent in the division," Dr Islam said.

Meanwhile, the total number of healed patients reached 33,676 with recovery of 544 more patients on Saturday in the division where the average recovery rate currently stands at 76.64 percent.

"The average recovery rate of Covid-19 infected patients was 97.55 percent about four and a half months ago on March 9 last in the division where the same dropped by 20.91 percent to 76.64 percent during the period on Thursday," he said.

Of the total 33,676 recovered patients, 6,961 of Rangpur, 1,612 of Panchagarh, 2,838 of Nilphamari, 1,826 of Lalmonirhat, 2,342 of Kurigram, 4,430 of Thakurgaon, 11,131 of Dinajpur and 2,636 of Gaibandha districts in the division.

Among the 43,940 infected patients, 561 are undergoing treatments at isolation units, including 24 critical patients at ICU beds and 11 at High Dependency Unit beds, after recovery of 33,676 patients and 902 deaths while 9,189 are remaining in home isolation.

"Meanwhile, the number of citizens who got the first dose of the Covid-19 vaccine rose to 8,67,762, and among them, 3,92,422 got the second dose of the jab till Thursday in the division," Dr Islam added.

Chief of Divisional Coronavirus Service and Prevention Task Force and Principal of Rangpur Medical College Professor Dr. AKM Nurunnobi Lyzu stressed on abiding by the health directives to contain the rising Covid-19 positivity rate in the division.