10 mayoral candidates submit nominations for RpCC polls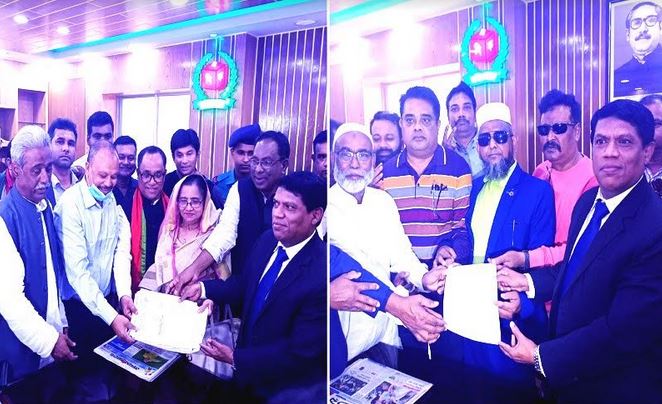 RANGPUR, Nov 29, 2022 (BSS) - Ten candidates submitted nomination papers in a festive atmosphere today to vie for the mayoral post in the Rangpur City Corporation (RpCC) elections- 2022 to be held on December 27.
"A total of 277 candidates including 10 for mayoral post, 198 for general councilor posts in 33 wards and 69 for reserved women councilor posts in 11 reserved wards submitted nomination papers," Returning Officer for RpCC elections Abdul Baten said in a press briefing here this afternoon.
He thanked all intending candidates for mayoral and general and reserved councilor posts for submitting nomination papers peacefully abiding by the election rules and regulations.

The 10 RpCC mayoral post candidates are: Awami League nominated Hosne Ara Lutfa Dalia, Jatiya Party nominated Md. Mostafizur Rahman, Md Amiruzzaman (Islami Andolan Bangladesh), Md Abu Raihan (Bangladesh Congress), Md Latifur Rahman (Independent), Md Tauhidur Rahman Mondal (Khelafat Majlish), Md Shafiar Rahman (Jatiya Samajtantrik Dal- JASOD), Md Ataur Zaman Babu (Independent), Md Mehedi Hasan (Bony) (Independent) and Md Khorshed Alam (Zaker Party).
Today was the last day for nomination papers submission.

"The submitted nomination papers will be scrutinized on December 1 and the last date for withdrawal of nomination papers is December 8 next," he said.

The poll symbols would be allocated on December 9 and RpCC elections will be held from 8 am to 40 on December 27 next.

The Returning Officer said Electronic Voting Machines (EVMs) will be used in all polling centers in the third Rangpur City Corporation elections.

"Every polling station will be covered by CCTV cameras," he said and sought cooperation of all political parties, competing candidates and journalists for holding Rangpur City Corporation elections peacefully.

Meanwhile, Awami League nominated mayoral candidate Hosne Ara Lutfa Dalia with senior Awami League leaders submitted her nomination paper to Returning Officer Abdul Baten this afternoon.

General Secretary of district Awami League Advocate Rezaul Karim Razu, President of city Awami League Shafiur Rahman Safi and its General Secretary Tushar Kanti Mondal and other leaders were present.

After submitting her nomination paper, Hosne Ara Lutfa Dalia, also a former Awami League lawmaker and a lawyer by profession, told reporters that the people of Rangpur are eagerly waiting to vote for the 'Boat' symbol on December 27 next.

"Local leaders and activists of Awami League and its associate bodies are united. With their cooperation and support of the common people, the symbol 'Boat' will win this time, InshAllah," she said.

Jatiya Party nominated mayoral candidate and immediate past Mayor of Rangpur Md. Mostafizur Rahman with his senior party leaders submitted his nomination paper to Returning Officer Abdul Baten at the latter's office this noon.

After submitting his nomination paper, Mostafizur Rahman hoped that the people of Rangpur would elect him as the Mayor of Rangpur once again to serve them through continuous development.