3-day int'l tourism expo begins Dec 1 to attract forex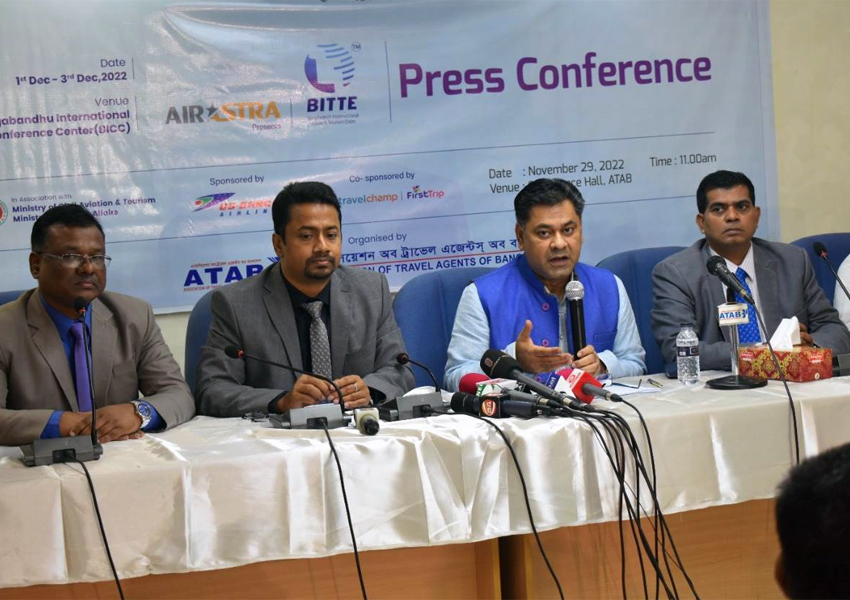 DHAKA, Nov 29, 2022 (BSS) - A three-day international tourism expo will be held in the capital from December 1 to 3 to attract more foreign tourists here as the country is looking forward to boost inward dollar flow.

Association of Travel Agents of Bangladesh (ATAB), an apex body of travel agents of the country, is organizing the fair in association with the civil aviation and tourism ministry and with the support from Air Astra and US-Bangla Airlines.
The fair titled "Bangladesh International Travel and Tourism Expo (BITTE)" will be held at Bangabandhu International Conference Center (BICC), Dhaka.

State Minister of Civil Aviation and Tourism Md Mahbub Ali is likely to be the chief guest of the expo's opening ceremony accompanying State Minister of Religious Affairs Ministry Md. Faridul Haque Khan and Civil Aviation Authority of Bangladesh (CAAB) Chairman Air vice Marshal M Mofidur Rahman.
This was revealed by ATAB President Manzoor Morshed (Mahbub) and Secretary General Abdus Salam Aref in a press conference held today here at the ATAB head office.
ATAB president said, "Bangladesh is a very important travel hub in the south eastern Asian region and we need to establish wide air connectivity to attract more tourists for the booming countries tourism sector".

He emphasized on drawing global tourists' attention in Bangladesh as the tourism industry of a country cannot rely only on domestic tourists.
Morshed hoped that a huge business opportunity would be created between travel agents and tour operators by participating in the expo.
Different airlines, hospitals, tourism boards from more than 15 countries including India, Malaysia, Bhutan, Nepal, the Maldives, Oman, Sri Lanka, Turkey, Azerbaijan, South Korea, Vietnam, Singapore, and the United Arab Emirates (UAE) will be participating in the fair.
Besides, travel agencies, tour operators, hotels, resorts, cruise liners, destination management companies and other travel and tourism sector service providers have confirmed participation in the expo as exhibitors.
Three different seminars "Investment opportunity in Bangladesh Tourism Sector", "Aviation and Tourism opportunity, Connecting Bangladesh to the world" and "The impact of 4th Industrial Revolution in Tourism Industry," are scheduled to be held during the fair.
Title sponsor Air Astra general manager Mozammel Haque and US Bangla Airlines general manager (PR) Kamrul Islam also spoke.