RMCH gets a BiPap machine for Covid-19 patients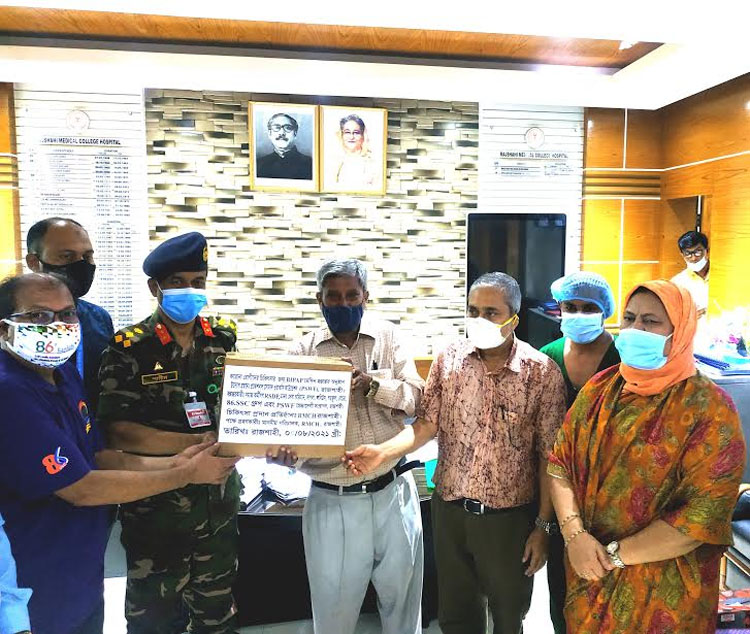 RAJSHAHI, Aug 5, 2021 (BSS)- Rajshahi Medical College Hospital (RMCH) was given a bi-level positive airway pressure (BiPap) machine for treating Covid-19 patients .
Some seven non-government development and volunteer organizations led by Professional Social Workers Foundation (PSWF) donated the machines amid the present Covid-19 pandemic .
RMCH Director Brig Gen Dr Shamim Yazdani received the high-cost machine on behalf of the hospital at its conference hall this noon.
PSWF President Mozammel Haque and Secretary General Ansar Ali and Muhammad Mohsin, Prof Nazim Uddin, Engineer Atiqul Islam and Rotarian Mannan Khan were present on the occasion.
Speaking at a brief meeting Brig Shamim Yazdani expressed his gratitude to the development organizations for donating the machines which will be very much helpful for the Covid-19 patients.
He said BiPap is a form of non-invasive ventilation (NIV) therapy used to facilitate breathing and it's used in hospitals and are also available for those who need at home.
Like other ventilators, BiPap machine uses pressure to push air into lungs. Depending on the settings, this opens the lungs, improving the level of oxygen in the blood and decreasing the carbon dioxide.
Giving a salient feature of the machine BrigYazdani said BiPap ventilators are very effective therapy for people experiencing acute breathing distress caused by COVID-19.