One crore people to be vaccinated from August 7 to 14: Maleque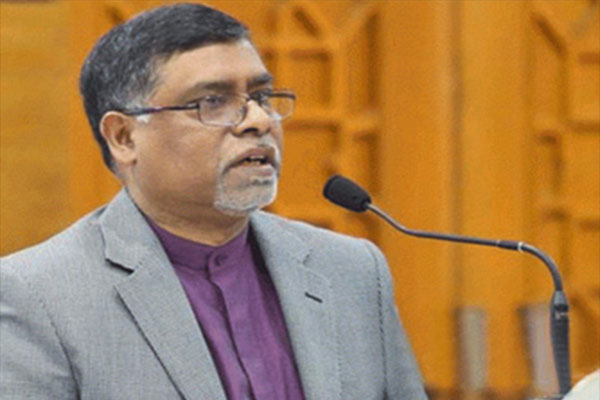 DHAKA, Aug 1, 2021 (BSS) - Health and Family Welfare Minister Zahid Maleque today said Bangladesh has set a target to vaccinate one crore people from August 7 to 14 to bolster the COVID-19 vaccination campaign across the country.
"During the seven-day drive from national to grassroots level, elderly people will get priority for receiving coronavirus vaccines," he told a function at Bangladesh College of Physicians and Surgeons (BCPS), an official release said.
"We have installed vaccination centres at union levels . . . the people will get vaccines there showing their national ID cards," the minister added.
Bangladesh is planning to vaccinate 80 percent of the country's total population by 2022, Director General of Directorate General of Health Service (DGHS) Prof Dr Abul Bashar Mohammad Khurshid Alam said.
"We are already set to purchase roughly 14 crore vaccine doses by June next year while the rest of the required jabs were expected to be procured in the subsequent months to implement the plan," he added.
As part of intensifying the nationwide inoculation drive, the government has lowered the minimum age by five years as such now people aged 25 years and above are allowed to receive COVID-19 vaccines.
The authorities fixed 30 years as minimum age for receiving coronavirus vaccines on July 19 the DGHS said, adding in early July, the authorities have reduced age limit to 35 years from 40.
People aged 55 and above were only eligible for taking vaccines but the decision has been revised a day after launching of the countrywide COVID-19 vaccination campaign on February 7 this year.
According to the DGHS, Bangladesh has so far collected around 1.91 crore COVID-19 vaccines. As many as 1,55,04,015 people have so far been registered for receiving the inoculation, it added.
As of August 1, a total of 9,112,144 people received first shot of COVID-19 vaccines while 43,51,665 people got the second doses of inoculation.