Ctg's beauty attracted foreign tourists since earliest times - Mahbub Ali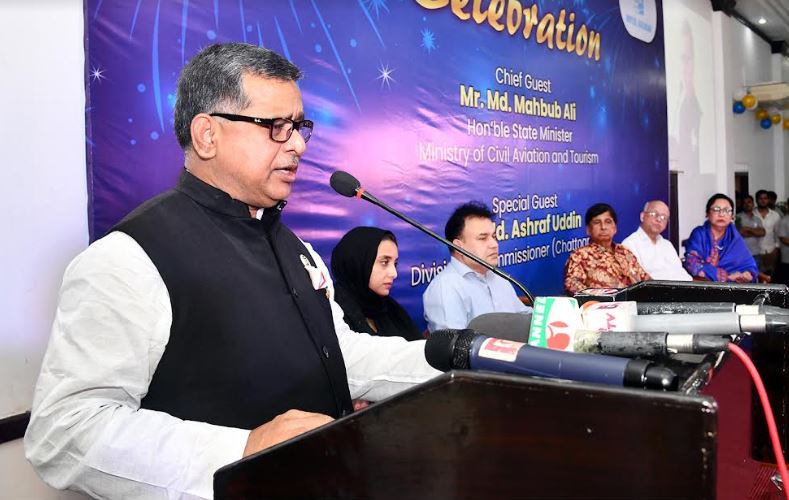 CHATTOGRAM, Sept 24, 2022 (BSS)- Tourism and Private Aviation Minister Mahbub Ali MP, said the beauty of Chattogram attracted foreign travelers and tourists since the beginning of time.
"Ibn Battuta, Hiuen Tsang, Vasco da Gama came to this Indian subcontinent and Chattogram after accepting many hardships and sacrifices from far away for the beauty of Chattogram. The Portuguese came here to trade and were attracted by the environment of Chattogram and started living here," he added.
The Tourism Minister said these while addressing as chief guest on the concluding day of the three-day event on the occasion of the Golden Jubilee of Chattogram's first five-star Hotel Agrabad on Saturday afternoon.
HM Hakim Ali, Managing Director of Hotel Agrabad Limited, presided over the function while Divisional Commissioner Md Ashraf Uddin, Daily Azadi Editor M. A Malek, President of Chattogram Women's Chamber of Commerce and Industry and Director of Bangladesh Tourism Board and First Vice President of FBCCI Manoara Hakim Ali, director of FBCCI Munal Mahabub, among others, addressed the function.
He said, Father of the Nation Bangabandhu Sheikh Mujibur Rahman was fascinated by the beauty of Chattogram.
He took a comprehensive plan to promote the tourism of Bangladesh including Chattogram to the world standard. But unfortunately, when Bangabandhu's family was killed in 1975, its implementation did not progress further, he added.
"Bangabandhu's daughter Sheikh Hasina came to power and is working day and night to implement all the dreams and plans of Bangabandhu," he added.
Mahbub Ali said that the government is carrying out extensive development activities with short, medium and long term plans to exploit the tourism potential of Bangladesh.
The historical structures, natural diversity, mountains, rivers, seas are being developed in Chattogram to make it attractive for tourists.
"Chattogram Airport expansion work is in progress. Construction of Karnaphuli Tunnel, Elevated Expressway from Dewan Hat to Airport, Dohazari to Ghumdhum Rail Extension, Airport Modernization and Expansion, Outer Ring Road, Bayezid Link Road, will further enrich Chattogram's tourism industry," he hoped.