16 die of Covid-19, casualties reach 882 in Rangpur division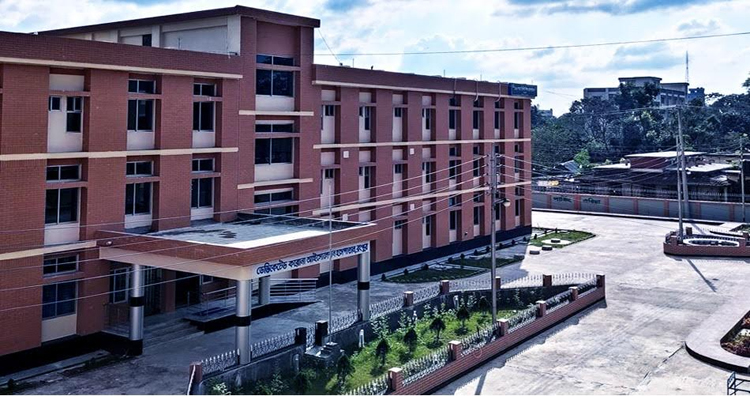 RANGPUR, July 28, 2021 (BSS) - Sixteen more patients died of Covid-19 in the division during the last 24 hours ending at 8 am today raising the total number of casualties to 882.
Health officials said the number of Covid-19 cases also jumped to 42,238 with diagnosis of 657 positive cases afresh on Tuesday in all eight districts of the division.
"The Covid-19 situation continues deteriorating in the division as the positivity and casualty rates are increasing during the last one and a half months," said Focal Person of the Covid-19 and Assistant Director (Health) for Rangpur division Dr ZA Siddiqui.
The 16 new casualties were reported from Rangpur, Kurigram, Gaibandha, Lalmonirhat, Thakurgaon and Dinajpur districts.
"A total of 379 Covid-19 patients, the highest number in a month since June 27 last, died in Rangpur division," he said.
The district-wise break-up of the 882 fatalities stands at 189 in Rangpur, 54 in Panchagarh, 64 in Nilphamari, 53 in Lalmonirhat, 49 in Kurigram, 170 in Thakurgaon, 262 in Dinajpur and 41 in Gaibandha.
"The average casualty rate currently stands at 2.09 percent in the division," Dr Siddiqui said.
Meanwhile, the number of Covid-19 cases hastily reached 42,238 as 657 new patients were diagnosed after testing 2,345 samples of the division at the positivity rate of 28.02 percent on Tuesday.
"The district-wise break-up of 42,238 infected patients now stands at 9,279 in Rangpur, 2,511 in Panchagarh, 3,368 in Nilphamari, 2,141 in Lalmonirhat, 3,258 in Kurigram, 5,816 in Thakurgaon, 12,266 in Dinajpur and 3,606 in Gaibandha," he said.
Talking to BSS, Divisional Director (Health) Dr Md Motaharul Islam said a total of 2,10,408 collected samples were tested till Tuesday, and of them, 42,238 were found Covid-19 positive with an average positivity rate of 20.07 percent in the division.
Meanwhile, the total number of healed patients reached 32,528 with recovery of 1,080 more infected patients on Tuesday in the division where the average recovery rate currently stands at 77.01 percent.
Of the total 32,528 recovered patients, 6,591 of Rangpur, 1,523 of Panchagarh, 2,761 of Nilphamari, 1,739 of Lalmonirhat, 2,247 of Kurigram, 4,212 of Thakurgaon, 10,869 of Dinajpur and 2,586 of Gaibandha districts.
Among the 42,238 infected patients, 538 are undergoing treatments at isolation units, including 24 critical patients at ICU beds and 11 at High Dependency Unit beds, after recovery of 32,528 patients and 882 deaths while 8,668 are remaining in home isolation.
"Meanwhile, the number of citizens who got the first dose of the Covid-19 vaccine rose to 8,16,400, and among them, 3,91,066 got the second dose of the jab till Tuesday in the division," Dr Islam added.
Chief of Divisional Coronavirus Service and Prevention Task Force and Principal of Rangpur Medical College Professor Dr. AKM Nurunnobi Lyzu expressed concern over the deteriorating Covid-19 situation in the division.
"Common people should strictly abide by the health directives, hygiene rules, maintain physical distance and make the ongoing strict lockdown successful to contain the rising Covid-19 positivity and casualty rates for remaining safe," he added.