Hasan urges all pro-liberation forces to be united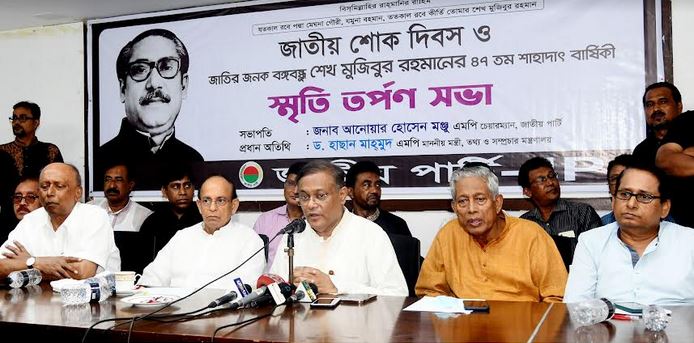 DHAKA, Aug 17, 2022 (BSS) - Information and Broadcasting Minister Dr Hasan Mahmud today urged the all pro-liberation forces and the progressive minded people to be united.

The minister made the call while addressing a discussion organized by Jatiya Party-JP marking the National Mourning Day at Jatiya Press Club here.

Jatiya Party-JP Chairman Anowar Hossain Manju presided over the meeting while JSD general secretary Shirin Akther, MP, Sammyobadi Dal general secretary Dilip Barua, JP general secretary Sheikh Shahidul Islam and presidium member Sadek Siddique, among others, addressed the meeting.

Hasan said it is needed to unmask the kingpins of Bangabandhu's killing before the new generation.

About the recent fuel price hike, the minister said tough actions would be taken if the daily essentials and its transportation cost are hiked unnecessarily in excuse of rise in fuel price. It is never desirable and acceptable," said Hasan, also Awami League joint general secretary.

Paying a rich tribute to Father of the Nation Bangabandhu Sheikh Mujibur Rahman, Manju said great leaders like Bangabandhu do not die.

Earlier, a special prayer was held seeking eternal peace of the departed souls of the martyrs of August 15, including Bangabandhu.