JPC leaders pay homage to Bangabandhu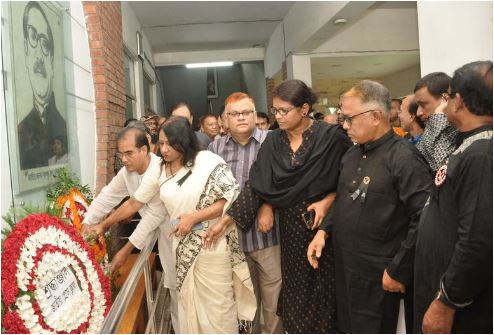 DHAKA, August 15, 2022 (BSS) – Leaders of Jatiya Press Club (JPC), led by its President Farida Yeasmin, today paid rich tribute to Father of the Nation Bangabandhu Sheikh Mujibur Rahman on the occasion of his 47th martyrdom anniversary and National Mourning Day.
To mark the day, the leaders placed a floral wreath at the portrait of Bangabandhu Sheikh Mujibur Rahman on the premises of JPC around 11 am, a release said here today.
After laying the wreaths, the leaders stood in solemn silence there for some time as a mark of profound respect to the memory of the architect of Bangladesh's independence in 1971.
Among others, Jatiya Press Club Joint Secretaries Mainul Alam and Md Ashraf Ali, its Treasurer Shahed Chowdhury, members Shahnaj Siddiqui Soma and Bhanu Ranjan Chakraborty were present.