Govt seeks journalists' opinions on draft of Data Protection Act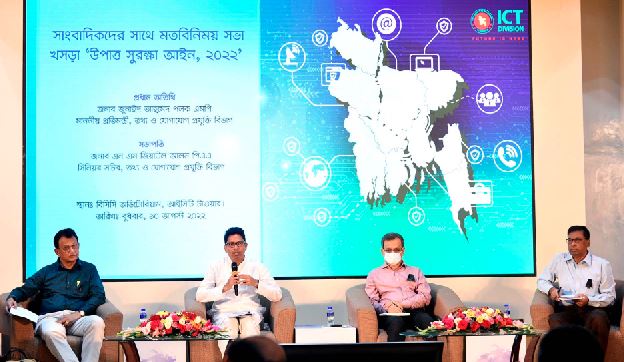 DHAKA, Aug 10, 2022 (BSS) - State Minister for ICT Division Zunaid Ahmed
Palak today urged the journalists and media workers to give their opinions on
the draft of Data Protection Act (DPA) within the next 10 days since the act
is available on the website of the division.
Palak made the call at a view-exchange meeting with journalists, which was
organized as part of the ongoing consultations on the act, at Bangladesh
Computer Council (BCC) Auditorium at ICT Tower in the city's Agargaon area
this morning.
Noting that the law is going to be enacted to protect the data from misuse,
he reassured that the law will not be used for controlling anything.
"Data is the next wealth . . . those who will be able to store and manage the
digital data properly will be strong prosperous nations," the state minister
said.
Palak said this act will protect the data of the country's people from misuse
by foreigners and third party except authorized one.
Presided over by ICT Division Senior Secretary N M Zeaul Alam, BCC Executive
Director Ranajit Kumar and BCC Director Tarique M Barkatullah spoke at the
meeting, among others.
President of Editors Guild Bangladesh and Ekattor Television Editor-in-Chief
Mozammel Babu, former president of BFUJ- Bangladesh Federal Union of
Journalists (BFUJ) Monjurul Ahsan Bulbul, NTV Chief News Editor Jahirul Alam
and Technology Media Guild Bangladesh President Md Kawser Uddin and General
Secretary Morsalin Jonaed took part in the open discussion on the draft law,
among others.
Speaking at the event, Mozammel Babu urged the government to enact a
simplified law so that all can understand it.
He also called for using simple and common words in the act so none can
misuse it through misinterpretations.
Taking part in the discussion, Monjurul Ahsan pointed out different concerns
about the law that might affect the people and data users and urged the
government to enact a people friendly law.
Consultant of ICT Division's Law and Policy Wing and former Senior Secretary
of the Legislative Division M Shahidul Haque gave explanations to the queries
of the journalists about the proposed law.