Canals, beels, haors will be excavated to prevent floods: Minister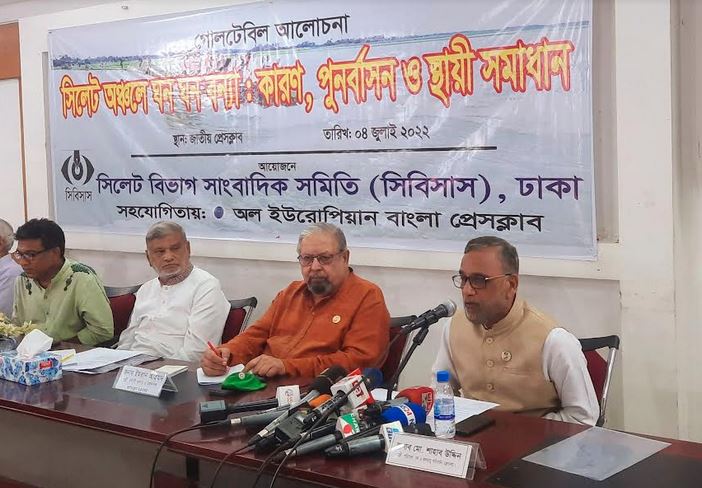 DHAKA, July 4, 2022 (BSS) - Environment, Forest and Climate Change Minister Md Shahab Uddin today said steps would be taken to excavate canals, rivers, haors and other water bodies in the country to prevent floods.
"Increasing water holding capacity of reservoirs will reduce the intensity of floods. Environmental protection must be given utmost importance to reduce natural disasters. The indiscriminate-cutting of trees and hills should be stopped," he said.
The minister was speaking as a special guest at a roundtable discussion titled 'Frequent Floods in Sylhet Region: Causes, Rehabilitation and Permanent Solutions' organized by Sylhet Division Journalists Association, Dhaka at the National Press Club here, a press release said.
Prime Minister Sheikh Hasina has directed to re-open the river channels of Surma and Kushiara, he said, adding that special measures are being taken by the government to rehabilitate the flood-affected people.
The minister called upon the affluent people of the society to come forward to help the helpless people during the disaster-period.
Sylhet Division journalist Samity, Dhaka President Azizul Parvez presided over the meeting while Planning Minister MA Mannan was present as the chief guest at the roundtable meeting.
Expatriates' Welfare and Overseas Employment Minister Imran Ahmed and Deputy Minister for Water Resources AKM Enamul Hoque Shameem were also present there as special guests.
Former Vice-Chancellor (VC) of Stamford University M Firoz Ahmed, Chief Executive of Bangladesh Environmental Lawyers Association Syeda Rizwana Hassan, Professor of Geology of Dhaka University Kazi Matin Uddin Ahmed;
General Secretary of Bangladesh Environment Movement Sharif Jamil; River and Delta Research Center-RDRC chairman Mohammad Ejaz and President of Bangladesh Environmental Reporter Forum Kamrul Islam Chowdhury were present as specialists in the discussion.
The concept paper was presented by Ehsanul Haque Jasim, convener, roundtable organized committee.