AL should never budge from its founding motto: Prof Arefin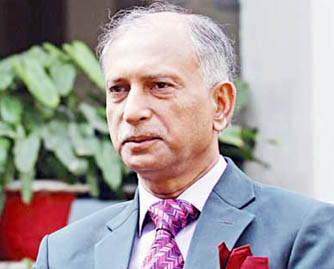 By Maloy Kumar Dutta

DHAKA, June 22, 2022 (BSS) - The Awami League, which led the country's 1971 Liberation War, should never budge from its founding principle of achieving emancipation for Bengali nation, said noted academician Professor AAMS Arefin Siddique.
"Since its inception, Awami League has been working for economic emancipation of the toiling masses of this soil in its long journey. It should never budge from this founding motto," he said in an interview with the national news agency on the eve of AL's 73rd founding anniversary.
He also suggested the party should stay alert to both internal and external conspiracies and keep united the leaders and workers at the grassroots ahead of the next parliamentary polls.
"It is noticed that a vested quarter is intruding into Awami League in different ways and hatching conspiracies to tarnish the party's image for their personal interests as the party in power for long," he said.
AL had to face such conspiracies during its inception as well as at the time of assassination of Father of the Bangabandhu Sheikh Mujibur Rahman, when attacks were carried out on Bangabandhu's daughter Sheikh Hasina in different periods and centering the Padma Bridge construction while conspiracies are still going on, he observed.
"Awami League will have to remain alert to these conspiracies and make united the leaders and workers at the grassroots who are main the strength of the party to contest a competitive national election. When Awami League marches forward, Bangladesh also goes ahead," said Prof Arefin, former Vice-Chancellor of Dhaka University.
He also extended congratulations to leaders and workers of AL including its President and Prime Minister Sheikh Hasina on the founding anniversary of the party.

After assassination of Bangabandhu, Sheikh Hasina took the helm of the party and filled the vacuum created after Bangabandhu's killing and she has been leading AL for four decades to fulfill the people's aspirations, he said.
Describing the role of AL in attaining the country's independence, he said history of Awami League, Bangabandhu and Bangalee's freedom are intertwined as the nation achieved its long-cherished independence under the leadership of AL five decades ago.
"Awami League led by Bangabandhu prepared Bangalee nation in phases to wage the struggle for freedom and finally the nation attained independence in 1971 through nine-month bloodstained Liberation War," he said.
Prof Arefin said Awami League was formed aimed at achieving emancipation of Bangalee nation from its long subjugation.

"Since its inception in 1949, Awami League always remains devoted to fulfill the expectations and aspirations of the common people of this soil," he said.

Bangabandhu, he said, the architect of independent Bangladesh, had established Chhatra League in 1948 when he was a student of Law at the DU before inception of AL in 1949.

But he established Chhatra League not to hold the leadership rather to organize the student community, he said.

Referring to the role of Bangabandhu in Language Movement, he said when the debate was going on over state language of Pakistan, Governor General Muhammad Ali Jinnah made it abundantly and unequivocally clear that "Urdu and Urdu alone" would be the language of the state of Pakistan addressing a special convocation of Dhaka University at Curzon Hall in 1948.

Following the declaration of Jinnah, protests broke out among the population and Bangabandhu immediately decided to start a movement against this earlier planned decision of the Muslim League, Prof Arefin said.

He said against the illogical declaration from an elderly politician and barrister, a young student leader Mujib said: "We want Bangla will be one of the state languages of Pakistan as majority of the population, 56 percent, speaks Bangla.
"We can demand Bangla as the only state language but we don't do that. You make a language of West Pakistan as one of the state languages and make Bangla as state language of this region and one of the state languages of Pakistan".

From this comment of a young student leader, it can be realized that how he had tried to keep intact interests of all logically in his entire life, he mentioned.

Prof Arefin said subsequently Bangabandhu took leadership of AL and the party spearheaded different democratic movements and struggles like formation of United Front Cabinet in 1954, six-point movement in 1966, mass upsurge in 1969 and Liberation War in 1971.

AL had to face different obstacles and hostilities during this long journey, he said.

After his brutal assassination, many conspiracies were hatched against AL and even 'resisting committee' was formed as Bangabandhu's daughter Sheikh Hasina could not return to Bangladesh, he said.

Defying all conspiracies and adversities, Sheikh Hasina returned home on May 17 in 1981 and took the helm of AL and later became the leader of the opposition and subsequently the prime minister, the academician said.

When Sheikh Hasina was elected prime minister, Bangladesh again started running on the path to materialize the dream of Bangabandhu, he said.