Hasan greets countrymen, prays for COVID-19 free world on Eid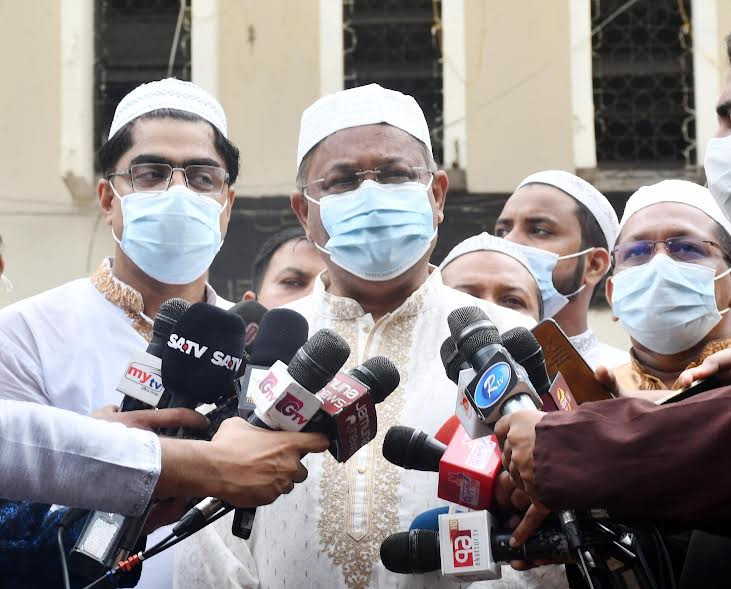 DHAKA, July 21, 2021 (BSS) - Information and Broadcasting Minister Dr Hasan Mahmud today greeted the countrymen on the holy Eid-ul-Azha, one of the biggest religious festivals of the Muslims and prayed for free of the nation and the world from COVID-19 pandemic.
"On this day of holy Eid, I'm praying that Bangladesh and the world as well would be freed from Coronavirus. I'm also praying for the welfare and prosperity of the country and the people as well," he said.
The minister was exchanging views with the newsmen after attending an Eid jamaat (congregation) at the National Mosque Baitul Mukarram in the capital.
He also prayed that the trend of development and progress that is going on in the country under the dynamic leadership of Prime Minister Sheikh Hasina will continue amid the pandemic.
Hasan, also Awami League joint general secretary, urged the countrymen irrespective of all opinions to work in unison to turn Bangladesh into a 'Sonar Bangla' envisioned by Father of the Nation Bangabandhu Sheikh Mujibur Rahman being imbued with the spirit of the great Liberation War.