iDEA Project signs MoU with NSU to support Startups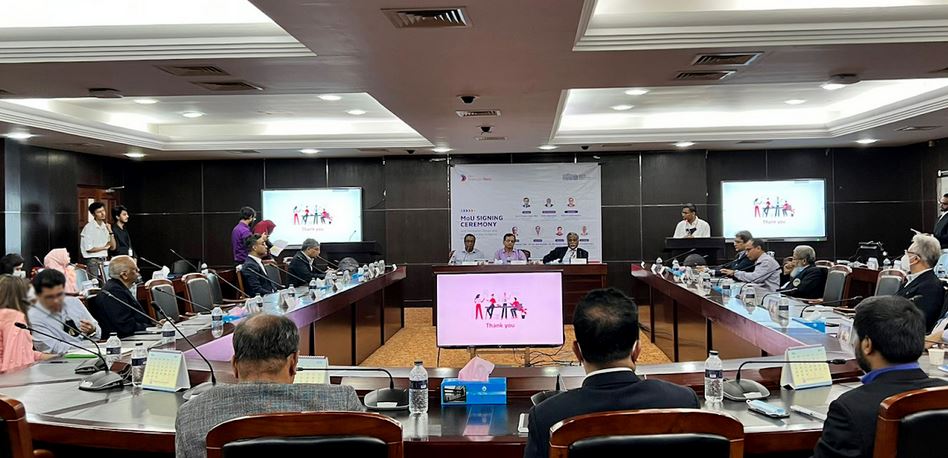 DHAKA, May 25, 2022 (BSS) - A memorandum of understanding (MoU) was signed today between the Innovation Design and Entrepreneurship Academy (iDEA) Project and North South University (NSU) aiming at working together to create a sustainable startup ecosystem in Bangladesh.
The iDEA Project of the Bangladesh Computer Council (BCC) under the ICT Division will carry out different researches and activities on innovation and entrepreneurship jointly with the NSU, said a press release here.
iDEA Project Director (Joint Secretary) Md Altaf Hossain and director of NSU "Startups Next Initiative" Professor Dr Shazzad Hosain signed the MoU on behalf of their respective sides on the university campus in the city's Bashundhara residential area.
Senior Secretary of the ICT Division NM Zeaul Alam and NSU Vice-Chancellor (VC) Professor Atiqul Islam were present at the MoU signing ceremony.

NSU Pro-VC Dr M Ismail Hossain, Senior Consultant of iDEA RHM Alaol Kabir, Legal Consultant of iDEA Adneen Zereen, deans of different faculties of the NSU and other officials from the university and the iDEA Project were present at the function, among others.
As per the MoU, different initiatives will be taken jointly for the development of entrepreneurial culture, including various programs, training, awards and research.
The iDEA Project will be a part of North South University's "NSU Startups Next" event as a partner. The winning startups from this initiative will be awarded grants based on evaluation by the iDEA Project Selection Committee.
iDEA Project Director Md Altaf Hossain said the project will cooperate in different activities like boot camps, workshops, seminars as per the mutual discussions.
National Consultant (Communication) of the iDEA Project Shohag Chandra Das said so far, 261 startups have been approved to provide pre-seed stage grants of Taka 10 lakh from the iDEA Project.
In addition to providing grants from the project, startups are being allocated free co-working space in the iDEA office in the city's Agargaon area. Startups interested in co-working spaces and any innovative ICT-based ideas can apply for a grant of up to Taka 10 lakh at the pre-seed stage while they can apply through the iDEA Project website www.idea.gov.bd.