Leading systematic life stressed to reduce hypertension risks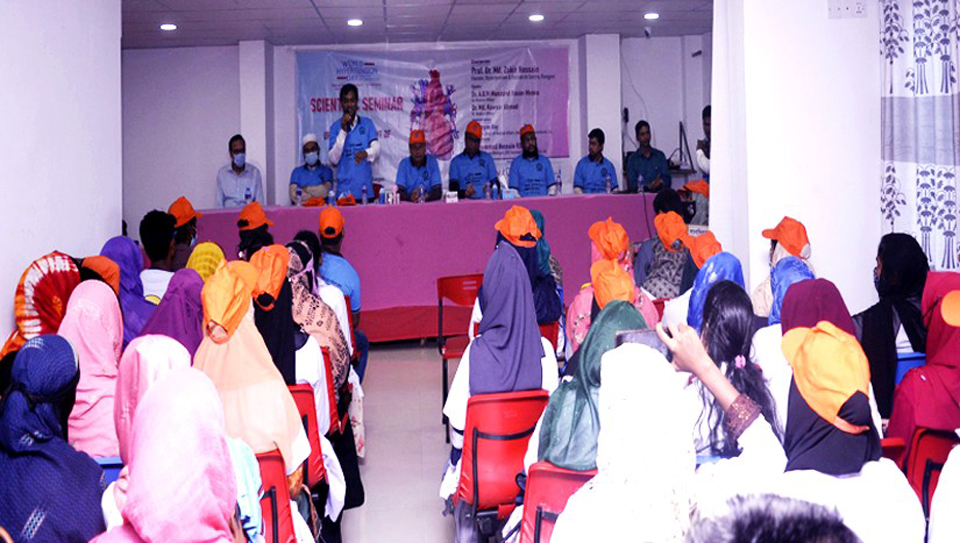 RANGPUR, May 18, 2022 (BSS) - Experts at a discussion here have stressed leading a systematic life to reduce the risk of the silent killer disease hypertension or high blood pressure.

They viewed this at the post-rally discussion organised by Hypertension and Research Centre, Rangpur (HRCR) at its auditorium on Tuesday in observance of the World Hypertension Day-2022.

Earlier, a rally was brought out to make people aware of severe consequences of hypertension and uncontrolled high blood pressure to reduce risks of heart attacks, brain hemorrhage, damages of kidney, eyesight and many other organs.

Divisional Director (Health) Dr. Abu Md. Zakirul Islam with Executive Member of RHRC Dr. Mofizul Islam Mantu inaugurated the rally that paraded the main streets in the city.

The RHRC, a sister organisation of 'Wasim-Waleda Bahumukhi Kallyan Foundation' and a Member of the World Hypertension League, has been observing the day since 2009.

HRCR is a non-profitable organization providing health services and treatments to 28,066 registered HBP patients of Rangpur division and other adjoining northern districts now at a symbolic cost of Taka 40.
Besides, the organization is providing completely cost-free health services to heroic freedom fighters, physically challenged, distressed, poor and helpless people.

Marking observance of the day, founding President of HRCR and former Principal of Rangpur Medical College (RpMC) Professor Dr. Md. Zakir Hossain sent a message to the HRCR authority.

In his message, Dr. Zakir said one person in every five is suffering from hypertension in Bangladesh and stressed bringing the situation under control right now.

"Anyone can suffer from hypertension, especially after 45, when problems may occur in the blood circulation process creating high blood pressure, discomfort and sickness and suggested to check up blood pressure regularly," he said.

He urged people to quit smoking, take required medicines, proper foods and walk alongside physical exercise to keep high blood pressure within safe range to avoid heart attacks, stroke, kidney ailments, diabetes and other deadly diseases and lead a safer life.

Presided over by General Secretary of HRCR and Professor of the Department of Medicine at RpMC Dr. Shah Md. Sarwar Jahan, Advisor of HRCR and Vice-principal of RpMC Professor Dr. Md. Mahfuzer Rahman attended the discussion as the chief guest.

Dr. ASM Rahenur Mondal Apel delivered a welcome speech while Dr. Manjurul Hassan Menon presented the keynote essay narrating various aspects of hypertension.

Moderated by Chief Executive Officer of HRCR Md. Anwar Hossain, Dr. Md. Zainal Abedin Jewel, Dr. Bibhas Chndra Mohato, Dr. Jahangir Kabir Polash and Dr. Kawser Ahmed addressed the discussion.