Hasan hopes youths will bring golden future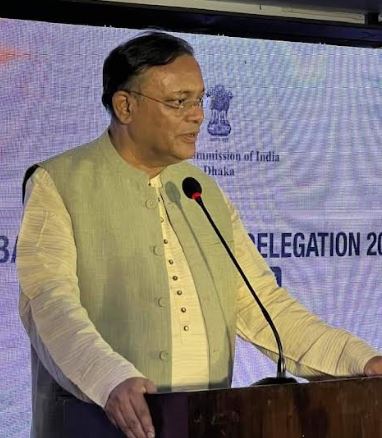 DHAKA, May 15, 2022 (BSS) - Information and Broadcasting Minister and Awami League Joint General Secretary Dr Hasan Mahmud today hoped that the young generation will bring golden future for the sub-continent.
He expressed the hope while addressing as the chief guest the inguinal ceremony of the process of the "Bangladesh Youth Delegation 2022" at Indian High Commission in Dhaka here.
Indian High Commissioner in Dhaka Vikram Kumar Doraiswami chaired the function while Deputy High Commissioner Binoy George, invited members of youth delegation of previous years who visited India and mission officials joined it, said a press release.
Noting that relations of Bangladesh and India are written in letters of blood, Hasan said India gave shelter to one crore people of Bangladesh during the 1971 Liberation War.
Indian soldiers along with Bangladeshi freedom fighters fought for the independence of Bangladesh and made supreme sacrifices which can never be forgotten, he mentioned.
The minister said Bangladesh Prime Minister Sheikh Hasina and her Indian counterpart Narendra Modi has been taking the relations to a newer height.
The youth delegation members will have many things to know and learn from the visit to India, he said.
Referring to historical accounts, he said during the era of agricultural economy, the Indian sub-continent was rich.
"As we were rich, Portuguese, Dutch, English and French had come here.
Dacoits carry out attack on riches, though I am not calling all of them as dacoits. Later, when the economy became reliant on industry, the scenario had been changed. Then European became rich through building industries by using our raw materials," he said.
"I hope our younger generation will change this phenomenon and bring our golden age," he said.
Indian High Commissioner Vikram Doraiswami said they are very happy to inaugurate the process of 'Bangladesh Youth Delegation 2022' after a break of two years due to coronavirus pandemic as it will further strengthen the two countries friendly ties.
He presented in detailed how to apply for becoming a member of the youth delegation.
Former members of youth delegation who visited Indian previous years performed a dance on the occasion.