BNP loses footing, can't go to power easily: Razzaque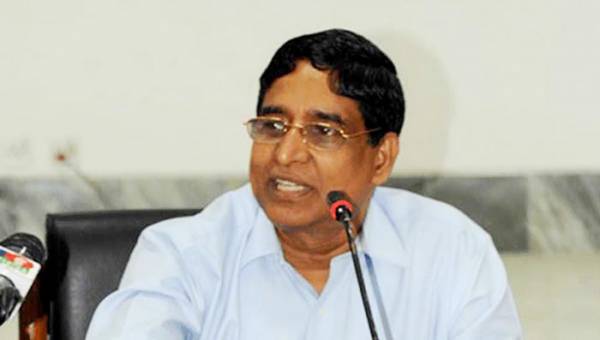 NOAKHALI, May 15, 2022 (BSS) - Agriculture Minister and Awami League Presidium Member Dr Md Abdur Razzaque today said now BNP has lost its footing and that is why they can never go to power too easily.
"People know everything. As BNP has no popular support and they cannot make their movement successful," he said while replying to journalists at a view-exchange on potentials of agriculture in Noakhali region at Subarnachar in the district.
Bangladesh Agricultural Development Corporation (BADC) arranged the programme.
"BNP is now issuing threats. BNP gave threat on life (in the recent past). They had killed 150 people by carrying out arson attacks and burnt hundreds of people by hurling petrol bombs on buses, trucks and auto-rickshaws," Razzaque said.
People had experienced such brutality in 1971 and then again in the 2014-15 period, he mentioned.
Noting that BNP cannot go to power by giving threat, he said it is not possible to ruin the achievements of the nation by threatening as the people and AL don't fear any kinds of threat.
The AL presidium member said Father of the Nation Bangabandhu Sheikh Mujibur Rahman had never feared any threat and AL never came to power by hatching conspiracy behind the curtain.
"People are the foundation of strength of Awami League. If people reject us, we will go away," he said.
He said in absence of Begum Khaleda Zia, the person who will run the BNP and wants to be prime minister is now leading a lavish life in London and running the party through "remote control" system.
"So giving threat through remote control from London and shouting on the basis of such threats will not bring Gayeshwar Chandra Roy and others (BNP) in power. BNP will have to go to people for going to power," he said.
About agricultural production, the minister said the AL government had promised to make Bangladesh self-reliant in food production and today Bangladesh has become self-reliant in food.
"We have increased productions of vegetables and pulses," he said, adding that the government will increase production of edible oil through utilization of technology.
Noakhali-3 constituency lawmaker Mamunur Rashid Kiron, member of Parliamentary Standing Committee on Agriculture Hosne Ara, Department of Agricultural Extension (DAE) Director General Md Benazir Alam and Noakhali deputy commissioner (DC) Dewan Mahbubur Rahman were present on the occasion among others.