Journos' role crucial to make 4th industrial revolution a success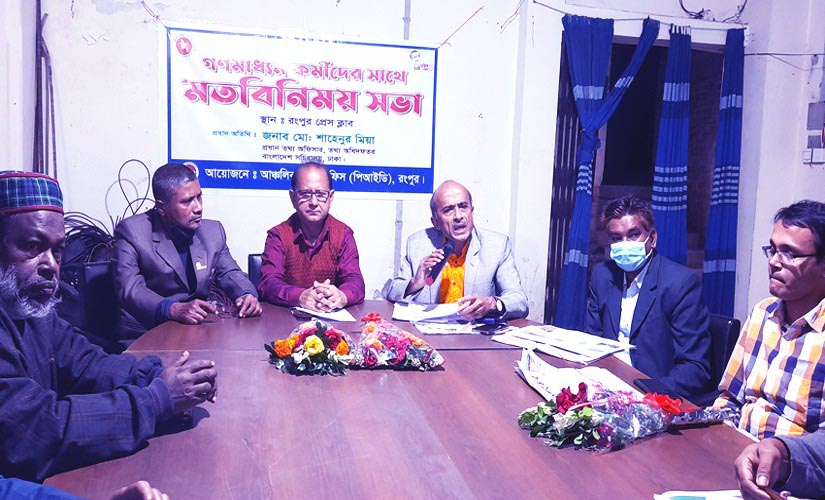 RANGPUR, Nov 27, 2021 (BSS) - Principal Information Officer (PIO) of Press Information Department (PID) Md Shahinoor Miah has said journalists have to play a crucial role in making the fourth industrial revolution successful in the country.
"The government has already achieved a lot of developments and success in digitization and utilizing information technology (IT) on the way to build a developed Bangladesh by 2041 next," he said.
The PIO, spokesperson of the government, made the observation while addressing a view-exchange meeting with local journalists at the auditorium of Press Club, Rangpur (PCR) here on Saturday night.
President of PCR Mahabub Rahman presided over the meeting participated by local journalists working in the print, electronic and online media.
Deputy Principal Information Officer (Additional Charge) at Rangpur Regional Office of PID Md Tauhiduzzaman, Senior Information Officer (Admin) AHM Masum Billah and other officials were present.
Local journalists thanked the government for establishing a Regional Office of PID at Rangpur city and urged for infusing more dynamism into the PID activities regarding dissemination of information.
Citing unprecedented progress in every sector, including the road communication, the PIO called upon local journalists to play more proactive roles in focusing the successes of the government when the country is on the highway of development.
"Journalists are working appreciably in portraying the development activities as an associate pillar of the government," he said, adding that Rangpur Regional Office of PID will work with local journalists towards the directions.
Responding to some issues related to easier access of journalists to information on development activities of the government, the PIO said steps would be taken so that the websites of all government departments remained updated.
"I will bring the issue of updating websites of the government departments to the notice of Information and Broadcasting Minister Dr Hasan Mahmud and State Minister for Information and Communication Technology Division Zunaid Ahmed Palak," he said.
He urged journalists to focus on enormous prospects of taking the country forward through objective reporting and to establish good governance supplementing the government's efforts towards the directions.