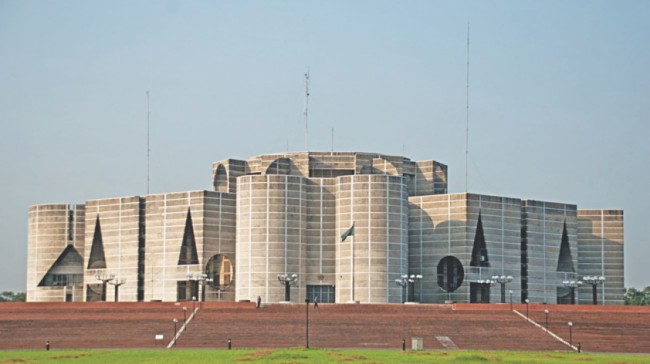 DHAKA, Nov 25, 2021 (BSS) - The proposal placed in Parliament under section 147 of the rules of procedure on the occasion of the golden jubilee of the country's independence was adopted unanimously today.
The Leader of the House Prime Minister Sheikh Hasina on Wednesday placed the proposal in the parliament to hold a special discussion marking the golden jubilee of the country's independence.
She joined the discussion on her proposal in parliament.
Earlier, at the beginning of the day's session on Wednesday, President Abdul Hamid gave a commemorative speech marking 50 years of independence with Speaker Shirin Sharmin Chaudhury in the chair.
A total of 59 treasury and opposition bench members of parliaments (MPs) discussed for 10 hours and 45 minutes on the proposal.
After the discussion, Speaker Dr Shirin Sharmin Chaudhury proceeded with the proposal asking the lawmakers to say "yes" or "no" for it and it was adopted unanimously in a voice vote.
Taking part in the discussion marking the golden jubilee, Agriculture Minister Dr Md Abdur Razzaque said Bangladesh would become a developed and prosperous country soon as the foundation of development has been built in every sector under the leadership of Prime Minister Sheikh Hasina.
He said Bangladesh has attained unprecedented progress in all socio-economic sectors.
Once the population was 7.5 crore and it is now over 16 crore but it has been possible to locally meet the demand of food for the huge population due to remarkable progress in agriculture under the leadership of Sheikh Hasina, he mentioned.
The minister said once foreign experts had opined that Bangladesh cannot survive self-reliantly but today their opinion has been proved as false as Bangladesh attained self-sufficiency in food.
Dr Razzaque said Bangladesh has not only made development in the food sector but also made massive progress on power generation, infrastructure, communication, health, education, ensuring shelter, and maintaining peace and discipline.

Information and Broadcasting Minister Dr Hasan Mahmud said Bangladesh is moving forward at an indomitable pace under the leadership of Prime Minister Sheikh Hasina.
"Due to the capable and visionary leadership of the prime minister, the country has now become a role model of development in the world. Today, it is recognised globally," he said.

Hasan, also the Awami League joint general secretary, said US President Joe Biden, in his message sent on the occasion of Mujib Year, mentioned Bangladesh as an example of development in the world.
Besides, he said, the World Bank president termed Bangladesh a role model of development.
Leader of the House and Prime Minister Sheikh Hasina yesterday brought a motion under the parliamentary rules of procedure 147 to hold a general discussion on the golden jubilee of the country's independence.
Hasan took part in the discussion on the motion.
"We have been working to build a developed and prosperous Bangladesh which will set an example of intellectual thoughts and humanity," he said.
That is why a generation having intellect, thoughts, human values, and modern knowledge must be built, the information minister said, adding that the government is working towards achieving this goal under the leadership of Sheikh Hasina.
Referring to the development and progress that took place in the country in the last 13 years, Hasan said Bangladesh today is far ahead of all other countries in South Asia, including Pakistan, in terms of development and social indicators.
Even, Bangladesh has surpassed Pakistan in all the socioeconomic indexes, he added.
Noting that Bangladesh was never independent before 1971, Hasan said the first "nation-state of Bangalees" was established only under the leadership of Father of the Nation Bangabandhu Sheikh Mujibur Rahman.
Education Minister Dr Dipu Moni said Father of the Nation Bangabandhu Sheikh Mujibur Rahman's landmark March 7 speech encouraged every Bangalee to jump into the great Liberation War and through the nine-month bloodstained battle Bangladesh has attained freedom.
Bangabandhu had made the foundation of building a Sonar Bangla within only three and half years after independence but assassins didn't allow him to materialize his dream into reality, she mentioned.
Following Bangabandhu's footprints, his able daughter Prime Minister Sheikh Hasina is taking ahead the country at an indomitable speed facing different odds and local and international conspiracies, she said.
Law, Justice and Parliamentary Affairs Minister Anisul Huq, Textiles and Jute Minister Golam Dastagir Gazi, Chief Whip Noor-e-Alam Chowdhury, Deputy Leader of the Opposition GM Quader, State Minister for Foreign Affairs Md Shahriar Alam, State Minister for Civil Aviation and Tourism Mahbub Ali, Whip Iqbalur Rahim, Treasury Bench lawmakers Amir Hossain Amu, Begum Matia Chowdhury, Mostafizur Rahman, Abul Kalam Azad, Nurul Islam Nahid, AFM Ruhal Haque, ASM Feroz, AB Tazul Islam, Motahar Hossain, Shajahan Khan, Pran Gopal Datta, Abul Hasanat Abdullah, Mrinal Kanti Das, AKM Rahmatullah, Nazrul Islam Chowdhury, Narayan Chandra Chanda, Tanvir Shakil Joy, Begum Shabnam Jahan, Naheed Ejahar Khan, Dr Samil Uddin Ahmed Shimul, Bangladesh Workers Party MP Rashed Khan Menon, Jatiya Samajtantrik Dal MP Shirin Akhter, Jatiya Party lawmakers Anisul Islam Mahmud, Fakhrul Imam, Md Rustum Ali Faraji and Md Mujibul Haque and Rawshan Ara Mannan, BNP lawmakers Harun-or-Rashid and Rumeen Farhana and Gano Forum MP Mukabbir Khan and Bikalpadhara Bangladesh MP Abdul Mannan also took part in the discussion.